MUIZ HOT CHICKEN Menu Malaysia 2023
Hello MUIZ HOT CHICKEN lovers, are you looking for the latest MUIZ HOT CHICKEN Menu? You have arrived at the right place then. We have uploaded their complete menu with pictures & updated prices. Below you will find the latest Lists of MUIZ HOT CHICKEN Menu 2023 Malaysia with prices.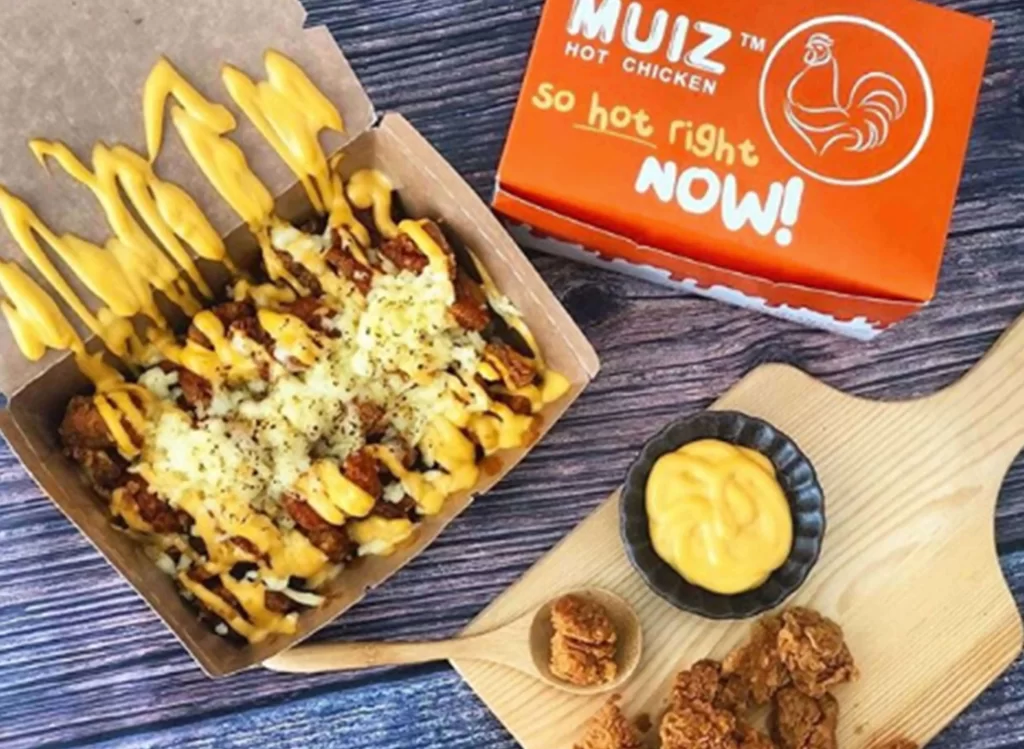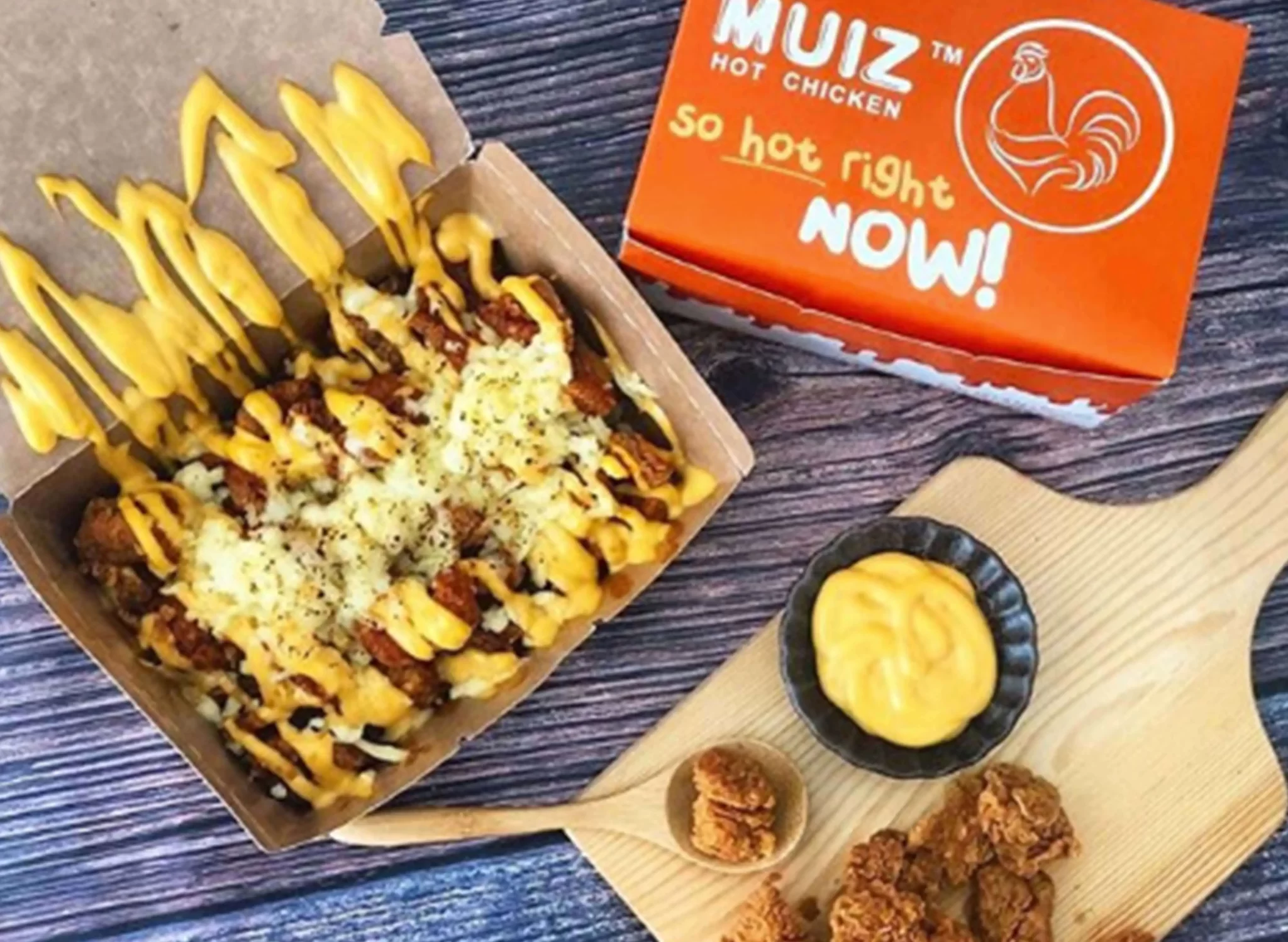 MUIZ HOT CHICKEN Menu Malaysia 2023 With Prices List
Popular
| | |
| --- | --- |
| Ayam Goreng Cheese | RM 17.50 |
| Ayam Goreng Korean Cheese | RM 20.70 |
| Ayam Goreng Korean | RM 19.10 |
A La Carte
The restaurant serves a variety of fried chicken options, including their original Ayam Goreng for RM 14.30, Ayam Goreng Cheese for RM 17.50, Ayam Goreng Korean for RM 19.10, and Ayam Goreng Korean Cheese for RM 20.70. I personally loved the Ayam Goreng Korean Cheese, the combination of flavors was truly delicious. In addition to the chicken, I also ordered the Nasi for RM 3.20 which was a great value.
| | |
| --- | --- |
| Ayam Goreng Original | RM 14.30 |
| Ayam Goreng Cheese | RM 17.50 |
| Ayam Goreng Korean | RM 19.10 |
| Ayam Goreng Korean Cheese | RM 20.70 |
| Nasi | RM 3.20 |
Sets
Their Happy Family Original Set is a great option at only RM 71.50, and it's packed with all the classic flavors you love. But for an extra cheesy kick, try the Happy Family Cheese Set for RM 87.30. If you're in the mood for something with a little more spice, the Happy Family Korean Set (RM 84.60) is sure to satisfy. And if you can't decide between cheese and Korean flavors, the Happy Family Korean Cheese Set (RM 92.30) is the perfect combination of both.
| | |
| --- | --- |
| Happy Family Original Set | RM 71.50 |
| Happy Family Cheese Set | RM 87.30 |
| Happy Family Korean Set | RM 84.60 |
| Happy Family Korean Cheese Set | RM 92.30 |
MUIZ HOT CHICKEN Alternative Restaurants
How many branches does MUIZ HOT CHICKEN have in Malaysia?
As of today, Muiz Hot Chicken has over 100 branches throughout Malaysia.
Who is the owner of MUIZ HOT CHICKEN Malaysia?
Muhamad Muizzuddin Bin Remle is the founder of the Muiz Hot Chicken company and its product. He started his business at the age of 20 after completing his studies at the STPM level. Tuan Muizzuddin started as a water maker in a restaurant before deciding to sell a fried chicken on the side of the road in 2013.
In 2015, he came up with the name of the product, Muiz Hot Chicken, after he saw the importance of the name and brand in a product he wanted to sell. In addition, his intention to help fellow villagers venture into the business field finally got the attention of the local community. He then released his own business model with a kiosk concept. Until today, the Muiz Hot Chicken kiosk business has expanded throughout peninsular Malaysia.
Does MUIZ HOT CHICKEN accept credit cards?
Yes! MUIZ HOT CHICKEN accepts credit cards.
Is MUIZ HOT CHICKEN Halal?
MUIZ HOT CHICKEN's halal status is a matter of debate and personal interpretation. Some believe it is halal, while others do not. It is up to each individual to decide for themselves.
Author: Alia Izzati
Alia Izzati is an experienced food critic and writer based in Malaysia. She is the author of several popular articles on the websites klfoodie.com and eatzeely.com, where she covers a wide range of topics related to restaurants and their menus. With a keen palate and a passion for exploring the culinary landscape of her home country, Alia is known for her thoughtful and in-depth reviews of the latest dining trends and hotspots. Whether you're looking for the best new places to eat in Malaysia or just want to stay up-to-date on the latest food news, Alia's articles are a must-read for anyone with an interest in the culinary arts.