Ristorante Da Valentino Menu Singapore 2023
If you are planning to visit Ristorante Da Valentino restaurant in Singapore, then you should check out this page for the Latest Ristorante Da Valentino Menu 2023 with prices. They have an array of delicious and inspiring options that will leave you satisfied and ready to take on the rest of your day. With such a huge selection of dishes at Ristorante Da Valentino Singapore Menu, how do you know what to order? Don't worry—they've got you covered. They've broken down their menu into sections based on what kind of mood you're in: Whether you're looking for something light or something thick and hearty, they've got what you need.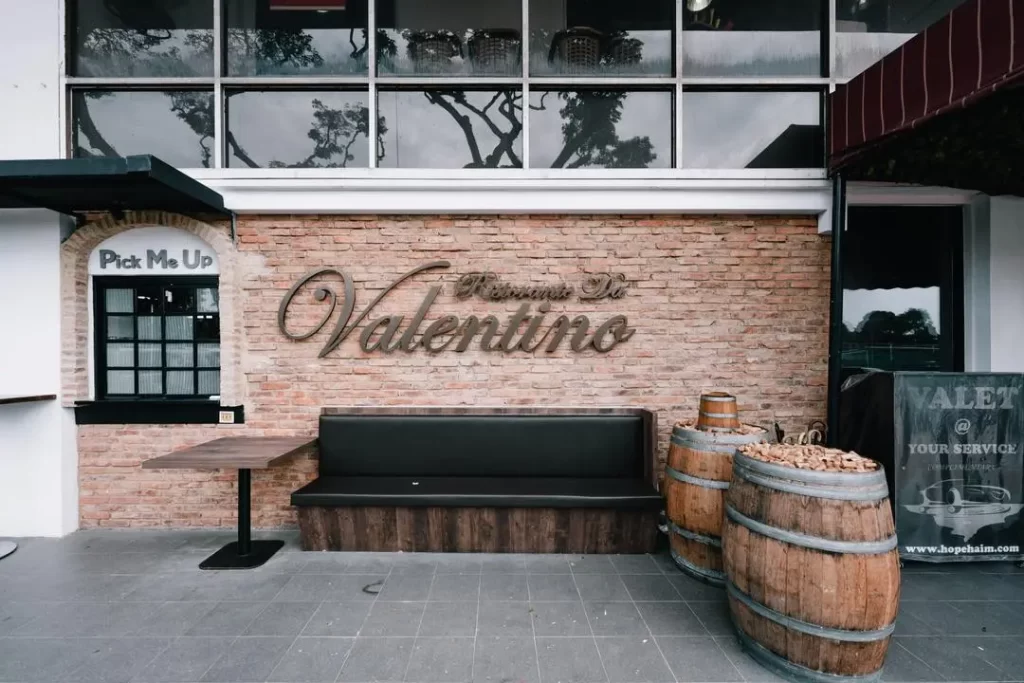 Ristorante Da Valentino wanted to share their passion with you and create an environment where you could relax and enjoy a great meal with friends and those you love. When you're looking for a casual evening with friends, or a delicious meal to take home, Ristorante Da Valentino Singapore is the place to be. One of the best things about this Ristorante Da Valentino SG is that it is open from morning till late at night, so you can visit them anytime during the day or night if you want to have some good food cooked by professional chefs who know how to prepare delicious dishes using fresh ingredients.
Ristorante Da Valentino Menu 2023 with priecs
Below you will find the latest Lists of Ristorante Da Valentino Menu 2022 Singapore with prices. Ristorante Da Valentino Menu & prices are sourced directly from Ristorante Da Valentino Singapore outlets.
CHEF'S RECOMMENDATION & DAILY SPECIALS
MAMA GIN (Min 2 Packs)
Refresh your taste bud with our house specialty
S$10.00
NEGRONI
The Negroni is, quite simply, a perfect cocktail, with equal parts Campari,
gin, and sweet vermouth, it's refreshing on a hot day.
S$10.00
APPLE VALENTINE
This Love Potion Cocktail is so romantic! The drink is made from a
combination of vodka, Apple sour and Sweet sour for a yummy flavor and
pretty color.
S$10.00
APEROL SPRITZ
Aperol Spritz is popular version of the Italian wine-based cocktail, which
consist of Aperol, prosecco and orange slice
S$10.00
NERO PIZZA PRAWNS BOTTARGA RUCOLA
12″ thin crust Squid link base , prawns ,bottarga & rucola salad
S$45.90
Sakoshi Bay Japanese Oysters (Min 2pcs)
Sakoshi Bay Japanese Oysters min 2pcs per order
S$12.90
SPAGHETTI LIVE BOSTON LOBSTERS
SPAGHETTI IN AGLIO OLIO , PINK SAUCE OR ARRABBIATA SAUCE
S$68.90
750GR T-BONE BISTECCA ALLA FIORENTINA SIZES
750gr 21 Days Dry Aged Black Opal Wagyu T-Bone Steak Florentine Style with
Caramelized Onions, Assortment Condiments and Sauce
S$188.00
700g Branzino Pope Style
Air Flown, Oven Baked Mediterranean Seabass with White Wine, Extra Virgin
Olive Oil, Artichokes, Potatoes, Olives, Capers, Datterini Tomatoes &
Italian Herbs.
S$128.00
BRACIOLA DI MAIALE AL VINO MOSCATO
Moscato Wine Marinated Iberico Pork Chop with Fried Lunar Potatoes
S$48.90
Vitello alla Milanese
Veal in Milanese style served with fried potato
S$68.90
STARTERS/BREADS/SOUPS
SELEZIONE DI SALUMI
Cold Cuts Selections (Mortadella, Cotto Ham & Salami)
S$35.90
INSALATA DI BORMIO (Serves for 1-2) (V)
Traditional Italian Fresh Green Salad with Finely Sliced Apples, Nuts and
Ricotta Cheese
S$22.90
BURRATA E DATTERINI (V)
Fresh Creamy Cow's Milk Cheese with Small Sweet Cherry Datterini Tomato
(Pastorized)
S$29.90
POMODORI DATTERINI (V)
Small Red Sweet Datterini Tomato Imported from South Italy Twice Weekly
S$20.90
ROSA DI PROSCIUTTO DI PARMA
Rose Shaped 18 Months Aged Parma Ham
S$35.90
PORK TONNATO
Thinly-slice braised pork loin served with light creamy,tuna sauce
S$24.90
TOMINO CHEESE
TOMINO CHEESE
S$38.90
MELANZANE ALLA PARMIGIANA (V)
Baked Eggplant Layered with Parmigiano & Tomato Sauce
S$24.90
350g CALAMARI FRITTI
350g Deep Fried Fresh Squid (Serve for 4-5)
S$45.90
PANE ALL' AGLIO (4pcs) (V)
Toasted Bread with Garlic and Butter (4pcs)
S$7.90
CIABATTA (No Sauce) (V)
Home-Made Baked Ciabatta Bread (Best Paired with Home-Made Green Sauce)
S$7.90
HOME-MADE GREEN SAUCE (No Bread)
HOME-MADE GREEN SAUCE (No Bread)
S$8.80
ZUPPA CON FUNGHI PORCINI (V)
Gourmet Porcini Velvety Mushroom Soup
S$18.50
PASTA & RISOTTO
TRADITIONAL PASTA
Carbonara ,Bolognese,Pomodoro Aop plain ,ecc..
S$28.90
SPAGHETTI VONGOLE AL VINO BIANCO
Spaghetti Vongole Clams with Garlic, Chilli in White Wine Sauce
S$45.90
ORECCHIETTE CON POLLO
Chicken & Sun-dried Tomato Pasta in Creamy Tomato Sauce
S$32.90
INK FETTUCINE AL GRANCHIO
Squid Ink Fettucine with Crabmeat and Chilli in Creamy Tomato Sauce
S$35.90
SPAGHETTI SEAFOOD MARINARA
Spaghetti Seafood (Scallops, Fish, Prawns, Clams and Squid) tossed in juicy
Tomato sauce
S$35.90
FETTUCCINE CON SALSICCIA PICCANTE
Fettuccine with Home-Made Spicy Minced Sausage
S$35.90
SPAGHETTI PANCETTA E FUNGHI IN SALSA DI PANNA
Spaghetti with Bacon and Mushroom in Cream Sauce
S$32.90
PENNE AMATRICIANA
Penne with Bacon, Onions in Tomato Base
S$38.90
LASAGNA FATTA IN CASA
Layered Pasta with Beef and Bechamel
S$27.50
RIGATONI WAGYU BEEF RAGU
Wide Tube Shaped Pasta with Wagyu Beef Ragout and Green Peas
S$38.90
PENNE VEGETARIAN (V)
Tube Shaped Pasta with Mixed Vegetables in Creamy Tomato Sauce
S$35.90
RISOTTO DI MARE
Traditional Italian Sage Risotto with Seafood (Prawns, Fish, Clams, Squid
and Scallop)
S$42.90
RISOTTO AI FUNGHI PORCINI (V)
Traditional Italian Sage Risotto with Gourmet Porcini Mushroom
S$33.90
SPAGHETTI FRUTTI DI MARE (Chef Speciality)
Spaghetti tossed with Fresh Datterini Tomato, Butter, Basil and Mixed Fresh
Squid, Prawns, Clams and Scallop.
S$35.90
SPAGHETTI CON GAMBERI PANNA POMODORO
Spaghetti with Tiger Prawns in FAMOUS VALENTINO'S Pink Sauce (5pcs)
S$38.90
SPAGHETTI AGLIO OLIO E FRUTTI DI MARE
Spaghetti Seafood (Scallops, Fish, Prawns, Clams and Squid) in a very
healthy Olive Oil, Garlic and Chilli
S$32.90
PENNE CON RAGU IBERICO PORK RAGU PENNE CON RAGU IBERICO PORK RAGU
"Penne" Tube Shaped Pasta with Iberico Pork Ragout
S$35.90
SPAGHETTI AGLIO OLIO CON PANCETTA E FUNGHI
Spaghetti in a very healthy Olive Oil, Garlic, Chilli with Bacon & Mushroom
S$35.90
GNOCCHI AGLI SPINAC
Potato Dumpling with Spinach and Cream Sauce
S$38.90
RAVIOLI AI FUNGHI PORCINI (V)
Traditional Italian Home-Made Stuffed Pasta with Porcini Mushroom, Olive
Oil and Truffle Aromatic Oil
S$35.90
MEATS & FISH
SIDES DISHES ONLY
SIDES DISHES ONLY
S$11.90
250g TAGLIATA DI LOMBATELLO
Australian Wagyu Hanging Tender served with Sauteed Potatoes (250g)
S$58.90
450g 35 Days Dry Aged Tasmania Wagyu Striploin MB 5+
450 Gr 35 Days Dry Aged Tasmania Striploin Bone In MB 5+
S$158.00
Wagyu Tomahawk MBS 5+
1.2kg
S$288.00
BRANZINO ALLA GRIGLIA 350gr
Grilled Mediterranean Baby Seabass with Sauteed Potatoes
S$48.90
POLLO DELLA MAMMA (HALF)
Mama's Half French Spring Chicken Recipe with Herbs and Bacon
S$35.90
STINCO DI AGNELLO STUFATO
Mama's Recipe Braised Lamb Shank served with Potatoes
S$45.90
AGNELLO ALLA GRIGLIA PROFUMATO (2PCS) AL ROSMARINO
New Zealand Lamb Chops Flavoured in Rosemary and Grilled to Perfections
(2pcs)
S$39.80
GUANCIALE DI MANZO CON PATATE
280gr Home-Styled Stew Wagyu Beef Cheeks with mash Potato
S$48.90
12″ THIN CRUST PIZZAS
PIZZA CARNE DI MANZO UOVO E PASTA DI TARTUFO
Beef, Mozzarella, Eggs and Truffle Paste (No tomato sauce)
S$38.90
PIZZA GAMBERI & CALAMARI
Prawns and Squid
S$38.90
PIZZA PORCINI E PANCETTA
Sauteed Porcini Mushroom & pork Bacon
S$33.90
PIZZA PARMA RUCOLA E PORCINI
Parma Ham, Porcini Mushroom & Rocket Salad
S$29.90
PIZZA BISMARK
Bacon & Half-Cooked Eggs
S$25.90
PIZZA SALAMI E OLIVE
Pork Salami & Black Olives
S$26.90
PIZZA CARNIVORO
Ham, Sausage, Bacon & Salami
S$27.90
PIZZA TROPICALE
Cooked Pork Ham & Pineapple
S$26.90
PIZZA NAPOLETANA
Anchovies, Olives and Capers
S$33.90
PIZZA MARGHERITA (V)
Tomato, Mozzarella & Oregano
S$24.90
PIZZA FORMAGGI MISTI (V)
Mixed Italian Cheese
S$29.90
PIZZA VERDURE (V)
Eggplant, Zucchini, Capsicum & Mushroom
S$28.90
DESSERTS
Home-Made 70% Dark Chocolates
Approx. 150g
S$20.00
CHEESE PLATTER
Cheese Platter of: Pecorino, Gorgonzola, Taleggio
S$24.90
LAVA CAKE
LAVA CAKE
S$10.00
TORTA CHANTILLY (SLICE)
Vanilla Sponge Cake with Cream and Custard
S$8.50
TORTA VALENTINO (SLICE)
Chocolate Sponge Cake with Rum and Raisins
S$8.50
PANNA COTTA ALLA VANIGLIA (CUP)
Classic Italian Cream Pudding Aromatised with Flavors of Vanilla and Milk
serve w raspberry sauce
S$10.00
TIRAMISU AL MASCARPONE E CAFE (CUP) TIRAMISU AL MASCARPONE E CAFE (CUP)
Traditional Italian Cheesecake with Mascarpone, Coffee and Liquor
S$12.00
SALAME DI CIOCCOLATO
SALAME DI CIOCCOLATO
S$28.00
Gelato al Cocco
Coconut Ice-Cream served in coconut shell
S$13.50
MIXBERRY TARTS (SIZES)
MIXBERRY TARTS (SIZES)
S$33.60
STRAWBERRY TART (SIZES)
Tarts topped with Custard and Topped with Fresh Strawberries
S$40.60
Profiteroles Tower
Profiteroles Tower
S$75.00
5″ TORTA CHANTILLY (serves 2-4)
Signature Vanilla Sponge Cake with Cream and Custard finish off with White
Chocolate Shaving Topping.
S$24.50
TORTA VALENTINO NO RUM NO RAISIN (NO ALCOHOL)
Chocolate Sponge Cake (No alcohol)
S$24.50
Ristorante Da Valentino  alternative restaurants 
Author: Christopher Tan
Hi there! I'm Christopher Tan, an award-winning writer, cooking instructor, and photographer. My passion lies in combining my love for words, images, and of course, food to create meaningful experiences. I have been honored to have my work published in numerous esteemed publications, including the Sunday Times and Straits Times in Singapore, Saveur magazine in America, and The Peak magazine.
I have expressed my love for food through the written word by authoring and co-authoring multiple cookbooks, including Chinese Heritage Cooking, Ask The Foodie and NerdBaker. I am thrilled to inspire others to create their own meaningful experiences through food, through my writing and teachings. I write restaurant menus and review on eatzeely.com