Central Perk Cafe Menu Prices Singapore 2023
If you are planning to visit Central Perk Cafe restaurant in Singapore, then you should check out this page for the Latest Central Perk Cafe Menu 2023 with prices. They have an array of delicious and inspiring options that will leave you satisfied and ready to take on the rest of your day. With such a huge selection of dishes at Central Perk Cafe Singapore Menu, how do you know what to order? Don't worry—they've got you covered. They've broken down their menu into sections based on what kind of mood you're in: Whether you're looking for something light or something thick and hearty, they've got what you need.
Central Perk Cafe wanted to share their passion with you and create an environment where you could relax and enjoy a great meal with friends and those you love. When you're looking for a casual evening with friends, or a delicious meal to take home, Central Perk Cafe Singapore is the place to be. One of the best things about this Central Perk Cafe SG is that it is open from morning till late at night, so you can visit them anytime during the day or night if you want to have some good food cooked by professional chefs who know how to prepare delicious dishes using fresh ingredients.
Central Perk Cafe Menu 2023 with priecs
Below you will find the latest Lists of Central Perk Cafe Menu 2023 Singapore with prices. Central Perk Cafe Menu & prices are sourced directly from Central Perk Cafe Singapore outlets.
Salads
Rachel "Green" Salad
The one with pesto, olives, feta, mesclun mix & compressed fruits
S$13.91
Phoebe's Nutty Vegetarian Salad
The one with nuts, seeds, romaine lettuce, lemon vinaigrette, sprouts &
beans
S$12.84
Alessandro Caesar Salad
The one with buttered rosemary croutons, anchovies, spanish onions,
vine-ripened tomatoes, romaine lettuce, bacon & parmesan
S$14.98
Soups
Phoebe's Mushroom Soup
The one with truffle oil & wild mushrooms served with bread
S$14.98
Joey's "Stuffed Clam" Chowder
The one where "What's mine is yours" served with bread
S$16.98
Mains
Chandler's Thanksgiving Chicken
The one with the whole roasted spring chicken, accompanied with "chanberry"
sauce
S$38.52
Ahh.. Unagi
Only by achieving true unagi can you be prepared for may danger that may
befall you. The one with smoked eel, squid ink risotto, sauteed vegetables,
63° poached egg with soy & wasabi powder
S$38.52
Janiee's Oh. My. God. Baby Back Ribs
The one where the meat falls off the bone. Free-range BBQ Iberico served
with pickled purple cabbage & compressed fruits
S$41.73
Joey's Fisherman Stew
The one with medley of seafood (mussels, prawn, scallops, octopus &
seasonal fish)
S$40.66
Joey's "You're My Everest"
The one that gives you the meat sweats 300g of turkey served with mashed
potato, topped with black pepper sauce and cheese
S$38.52
Phoebe's "I Can't Eat Meat" Steak
The one where "you don't cheat on someone unless they are really hot" 250g
ribeye served with garlic mash, US asparagus, baby carrots topped with
black pepper sauce
S$41.73
All Day Brunch
Egg Benedict
The one with eggs from chick, mentaiko hollandaise, toast & smoked duck
S$23.54
Ross' Thanksgiving Sandwich
The one with the tender turkey, stuffed tomatoes & dijonnaise served with
fries
S$22.47
Joey's "Ride Along" Sandwich
The one that Joey took a bullet for meatball sub sandwich, homemade
kurobuta (pork) meatballs & barbeque sauce, topped with cheese served with
fries
S$22.47
Joey's Big Breakfast
The one Joey wakes up to chipolata, sauteed tomatoes, streaky bacon, salad
and scrambled eggs served with bread
S$24.61
Pizza
Phoebe's Vegetarian Pizza
The one with tomatoes, mushrooms, sauteed peppers, spanish onions &
parmesan shavings
S$25.68
Joey's Meatlover Pizza
The one with turkey breast, bavarian ham, fresh pineapple & kurobuta pork.
Topped with sour cream, mayo & BBQ sauce. Must try
S$29.96
Joey's Salami Pizza
The one with pumpkin puree, salami, rocket & cheese
S$27.82
Barbados Pizza
The one with ham & pineapple (Hawaaiian). Topped with BBQ sauce
S$27.82
Pasta
Monica's Vegetarian Lasagne
The one with aubergine, zucchini & mushrooms
S$27.82
Phoebe's "You're My Lobster" Pasta
The one made with half lobster, with spicy lobster sauce, prawns &
crabmeat, spicy option available. Must try
S$34.24
Monica's "Too Much Garlic" Aglio Olio
The one with dashi infused aglio olio with scallop, prawn & garlic snaps,
spicy option available. Must try
S$29.96
Monica's Marinara
The one with "job winning sauce" (tomato based), prawns, fresh water
scallop, spanish octopus & mussels, spicy option available
S$34.24
Sides
Ross-Ti
The way Ross wears it (Sputnik) served with sour cream, bacon & scallion
S$14.98
Tater Tots
The way Joey likes it topped with truffle oil
S$10.70
Garlicky French Fries
The way Monica cooks it
S$10.70
Phoebe's Mushrooms
The one with rosemary & thyme sauteed mushrooms in butter sauce
S$14.98
Alejandro Calamari
The one made by Tim deep fried squid with home made batter served with mayo
& a dash of wasabi
S$14.98
Chandler's Righteous Mac & Cheese
The one with trio cheese shavings, rosemary oat crust topped with truffle
oil
S$16.05
Joey's Chicken Wings
The one Joey invested in fried chicken wings in prawn paste
S$14.98
Monica's Baked Oysters
3 Pcs. The one that is aphrodisiac
S$16.05
Phoebe's Sauteed Vegetables
The one Phoebe likes mushrooms, corn, carrot, garlic shoots, bell pepper &
baby spinach sauteed with garlic butter
S$10.70
Desserts
Mrs Braverman's Cheesecake
The one from Mama's Little Bakery, Chicago, Illinois
S$17.12
Heavy Fudge Chocolate Mudcake
The one Joey isn't even sorry for eating
S$17.12
Hot
English Breakfast
S$6.42
Chamomile
S$6.42
Earl Grey Lavender
S$6.42
Jasmine Rose
S$6.42
Mint
S$6.42
Chocolate
S$8.56
Matcha Latte
S$8.56
Juices & Tea
Lime Juice
S$6.42
Apple Juice
S$6.42
Pineapple Juice
S$6.42
Soursop Juice
S$6.42
Cranberry Juice
S$6.42
Iced Lychee Tea
S$7.49
Homemade Strawberry Earl Grey
S$7.49
Homemade Lemonade
S$7.49
Other Beverages
Coke
S$5.35
Coke Light
S$5.35
Sprite
S$5.35
Soda
S$5.35
Ginger Ale
S$5.35
Lemon Tea
S$5.35
San Pellegrino Sparkling Water
S$7.49
Acqua Panna Still Water
S$7.49
F.R.I.E.N.D.S Puccino
Monica Geller
The one with Monica's Jam. Cranberry, raspberry, milk, blackcurrant,
strawberry ice cream
S$10.70
Rachel Green
The one with Matcha. Matcha, honey, vanilla, milk, vanilla ice cream
S$10.70
Phoebe Buffay
The one with all the nutty peanut butter ideas. Peanut butter, toffee nut,
milk, vanilla ice cream
S$10.70
Ross Geller
The one with Marcels favourite. Choco chips, chocolate cookie, milk,
banana, chocolate ice cream
S$10.70
Chandler Bing
The one with Yoohoo drink. Maple, toffee nut, gingerbread, cinnamon, milk,
chocolate ice cream
S$10.70
Joey Tribbiani
Contains alcohol "Kahlua". The one with grandma Tribbiani's tiramisu. Cream
cheese, vanilla milk, coffee grounds, chocolate ice cream
S$12.84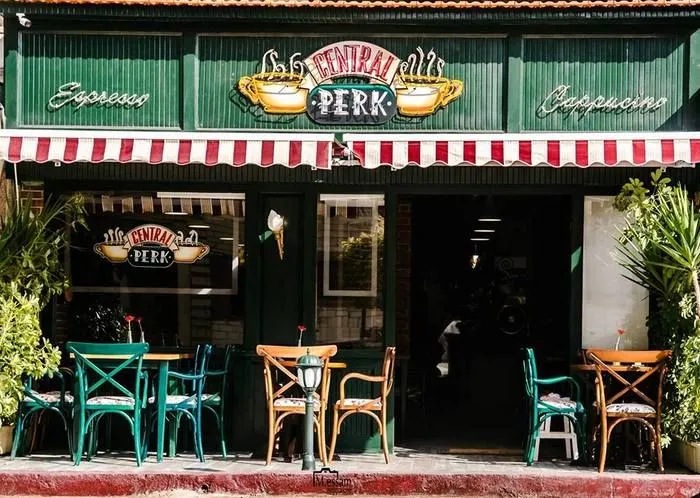 Central Perk  alternative restaurants 
Who owns Central Perk Singapore?
Jit Min started in June 2016 and, within 6 months, he had the cafe up and running. Welcome to Central Perk. It'll be there for you!
Does Central Perk exist?
While Central Perk exists solely on a Los Angeles soundstage, the space that would house the corner-side café below the building where Monica, Rachel, Chandler, and Joey lived is very much real. Little Owl opened in May 2006, just two years after one of the most popular television series of all time aired its finale.
When did Central Perk Singapore Open?
A crowdfunding campaign on Indiegogo to bring a Friends-themed cafe to life was announced in June 2016, and the cafe quickly opened its doors in Nov. 2016 due to overwhelming support. Central Perk Singapore is the only Friends-themed cafe licensed outside the U.S., and its interior is modelled after famous show sets.
What is similar to Central Perk?
Tryst is the quintessential neighborhood coffee shop like Central Perk in Friends.
Who served coffee at Central Perk?
As Friends fans know, Jennifer Aniston's character Rachel was the one who spent a stint serving up piping hot Joe at Central Perk, but with Courteney Cox once again filming on the Warner Bros. lot, the studio home of her former show, she's now picking up some coffee-related shifts of her own.
Can you eat at Central Perk?
Guests can now enjoy a delicious New York deli-inspired menu including corned beef melts, pizza wedges, hot dogs, fries, and an assortment of salads, hot and cold sandwiches, and our special blend of Central Perk coffee with new Friends character-inspired beverages.
Can you drink coffee at Central Perk?
Fans of the show can visit the shop, drink free cups of Eight O'Clock Coffee, including a specially-devised Central Perk Roast and, if you're lucky, sneak a glimpse of TV's best-known barista Gunther (played by James Michael Tyler).
Author: Christopher Tan
Hi there! I'm Christopher Tan, an award-winning writer, cooking instructor, and photographer. My passion lies in combining my love for words, images, and of course, food to create meaningful experiences. I have been honored to have my work published in numerous esteemed publications, including the Sunday Times and Straits Times in Singapore, Saveur magazine in America, and The Peak magazine.
I have expressed my love for food through the written word by authoring and co-authoring multiple cookbooks, including Chinese Heritage Cooking, Ask The Foodie and NerdBaker. I am thrilled to inspire others to create their own meaningful experiences through food, through my writing and teachings. I write restaurant menus and review on eatzeely.com