Que Pasa Menu Prices Singapore 2023
If you are planning to visit Que Pasa restaurant in Singapore, then you should check out this page for the Latest Que Pasa Menu 2023 with prices. They have an array of delicious and inspiring options that will leave you satisfied and ready to take on the rest of your day. With such a huge selection of dishes at Que Pasa Singapore Menu, how do you know what to order? Don't worry—they've got you covered. They've broken down their menu into sections based on what kind of mood you're in: Whether you're looking for something light or something thick and hearty, they've got what you need.
Que Pasa wanted to share their passion with you and create an environment where you could relax and enjoy a great meal with friends and those you love. When you're looking for a casual evening with friends, or a delicious meal to take home, Que Pasa Singapore is the place to be. One of the best things about this Que Pasa SG is that it is open from morning till late at night, so you can visit them anytime during the day or night if you want to have some good food cooked by professional chefs who know how to prepare delicious dishes using fresh ingredients.
Latest List of Que Pasa Menu Singapore 2023 with prices
Below you will find the latest Lists of Que Pasa Menu 2023 Singapore with prices. Que Pasa Menu & prices are sourced directly from Que Pasa Singapore outlets.
Tapas
White Belly Tuna
Best part of a tuna, this delicacy is served with sea salt
S$27.07
Assorted Mushrooms
S$12.95
Meatballs
S$20.01
Warm Tapas
Smoked Chicken Quesadilla
S$20.01
Hot Bar Snacks

Potato Wedges
Wedges served with a garlic cream sauce
S$15.30
French Fries
S$11.77
Pizzas

Ice-Cold Beer Pizza
Topped with fresh prawns and homemade pesto tomato sauce
S$25.89
QP Pizza
Newly launched signature thin crust pizza, served with parma ham and rucola
leaves, delicioso
S$28.25
The No.5 Special Pizza
Chorizo sausage and jalapeno peppers make up this spicy original
S$25.89
Margherita Pizza
Topped with mozzarella cheese and tomatoes with a touch of pesto
S$21.19
Vegetarian Pizza
3 Types of bell peppers, mushrooms and a whole lot of taste
S$21.19
Four Cheese Pizza
Gorgonzola, feta, mozzarella and Parmesan, served with a touch of fresh
basil
S$25.89
Salami and Capers
Salami, capers with oregano, thyme, onions and tomatoes
S$25.89
Hawaiian Pizza
S$25.89
Snacks
Baked Assorted Mushrooms
Oven cooked shiitake, button and oyster mushrooms
S$12.95
Beef Wrap
Sliced beef rump with jalapeno, cheese and lettuce
S$18.83
Mini Beef Burgers
3 Mini juicy beef burgers, served with French fries and homemade secret
recipe sauce
S$28.25
Chicken Wings
Jumbo sized wings, served crispy and very juicy
S$15.30
Chorizo Sausage with Tomato Coulis
Perfectly grilled fresh spicy chorizo sausages with tomato coulis
S$16.48
Meatballs with Tomato Sauce
Beef and pork meatballs, served with spicy tomato sauce
S$20.01
Smoked Chicken Quesadilla
Oven baked tortilla filled with smoked chicken and cheese
S$18.83
Anchovy Bread
S$14.12
Beverages
Ginger Ale
Can
S$5.89
Coke Light
Can
S$5.89
Tonic Water
Can
S$5.89
Panna Still Water
500ml
S$10.59
San Pellegrino Mineral Water
500ml
S$10.59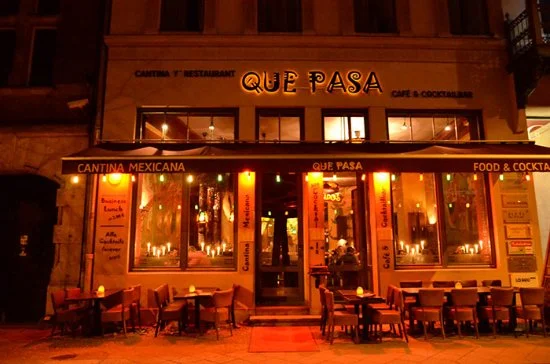 Que Pasa  alt ernative restaurants 
How many branches does que pasa have in
?
32 branches are que pasa have in Singapore.
Who is the owner of que pasa Singapore?
Eddy Tan is the owner of que pasa Singapore.
Does que pasa accept credit cards?
We accept the following payment cards: Mobile pay Visa (Visa-Dankort) MasterCard When you create your order, you automatically allow Que Pasa Papi to deduct the payment for the order. Payment will only be deducted when sending your order, and you will receive a receipt via email. An amount greater than what you have approved can never be deducted. It is your responsibility that there is money in the account that is linked to the payment card you used when registering so that we can deduct the payment. If not, the current order will be stopped.
Is que pasa Halal?
Que Pasa Serves Non Halal Food
Alcoholic Beverages are served, and they use pork as one of their ingredients. For these reasons, Que pasa is Not Halal Certified.
Author: Christopher Tan
Hi there! I'm Christopher Tan, an award-winning writer, cooking instructor, and photographer. My passion lies in combining my love for words, images, and of course, food to create meaningful experiences. I have been honored to have my work published in numerous esteemed publications, including the Sunday Times and Straits Times in Singapore, Saveur magazine in America, and The Peak magazine.
I have expressed my love for food through the written word by authoring and co-authoring multiple cookbooks, including Chinese Heritage Cooking, Ask The Foodie and NerdBaker. I am thrilled to inspire others to create their own meaningful experiences through food, through my writing and teachings. I write restaurant menus and review on eatzeely.com