Tankatsu Menu prices Malaysia 2023
Hello Tankatsu lovers, are you looking for the latest Tankatsu Menu? You have arrived at the right place then. We have uploaded their complete menu with pictures & updated prices. Below you will find the latest Lists Tankatsu Menu 2023 Malaysia with prices.
Tankatsu Menu Malaysia With Prices List
Set Menu 세트 메뉴
If you're looking for delicious Japanese-style pork cutlets in Malaysia, look no further than Tankatsu! Their menu offers a variety of mouth-watering options, including their signature Tankatsu, crispy and tender Hirekatsu, and juicy Rosukatsu. For cheese lovers, the Cheesekatsu is a must-try, and if you're feeling adventurous, the Rosekatsu and Demikatsu are sure to delight. And don't forget to pair your meal with one of their refreshing teas, like the Honey Lemon or Green Plum Tea, or try the invigorating Ginseng Tea for a boost of energy. With high-quality ingredients and expert preparation, Tankatsu is a top destination for authentic and delicious Japanese cuisine in Malaysia.
| | |
| --- | --- |
| Tankatsu 탄카츠 | from RM 41.70 |
| Cheesekatsu 치즈카츠 | from RM 39 |
| Rosukatsu 로스카츠 | from RM 36.30 |
| Hirekatsu 히레카츠 | from RM 41.70 |
| Rosekatsu | from RM 37.70 |
| Demikatsu | from RM 37.70 |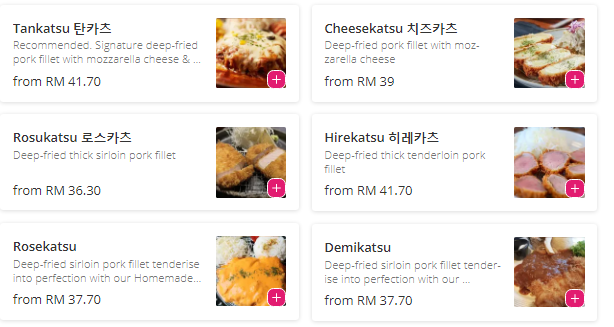 Rice 덮밥
| | |
| --- | --- |
| Curry Katsu | from RM 35 |
| Curry Korean Sausage | from RM 32.30 |
| Omurice Katsu | from RM 37.70 |
| Omurice Korean Sausage | from RM 35 |

Noodles 면류
| | |
| --- | --- |
| Korean Udon | from RM 29.60 |
| Korean Eomuk Udon | from RM 30.90 |
| Jjajjang Myeon | from RM 26.90 |
| Rabbokki | from RM 29.60 |

Katsu Jjigae 카츠찌개
| | |
| --- | --- |
| Tuna Kimchi Jjigae | from RM 35 |
| Pork Kimchi Jjigae | from RM 35 |
| Budae Jjigae (Army Stew) | from RM 36.30 |

Tteokbokki 떡볶이
| | |
| --- | --- |
| Tteok Bbok Katsu | from RM 36.30 |
| Rose Tteok Bbok Katsu | from RM 37.70 |
Coffee 커피
| | |
| --- | --- |
| Americano 아메리카노 | from RM 9.30 |
| Latte | from RM 13.40 |
Dalgona 달고나
| | |
| --- | --- |
| Dalgona Ice Latte | RM 18.80 |
| Dalgona Milk Tea | RM 16.10 |
Korean Tea 한국 차
Tankatsu has a great selection of teas to choose from to complement your meal. Their green tea is a must-try and starts from RM 5.30. If you're looking for something more unique, you can try their Honey Citron Tea, Honey Ginger Tea, Honey Jujube Tea, Honey Lemon Tea, or Honey Green Plum Tea, which all start from RM 12. For those in need of a little energy boost, the Ginseng Tea (Hot) is a great choice and is priced at RM 8. All in all, Tankatsu's tea selection is sure to please even the pickiest of tea drinkers.
| | |
| --- | --- |
| Green Tea | from RM 5.30 |
| Honey Citron Tea | from RM 12 |
| Honey Ginger Tea | from RM 12 |
| Honey Jujube Tea | from RM 12 |
| Honey Lemon Tea | from RM 12 |
| Honey Green Plum Tea | from RM 12 |
| Ginseng Tea (Hot) | RM 8 |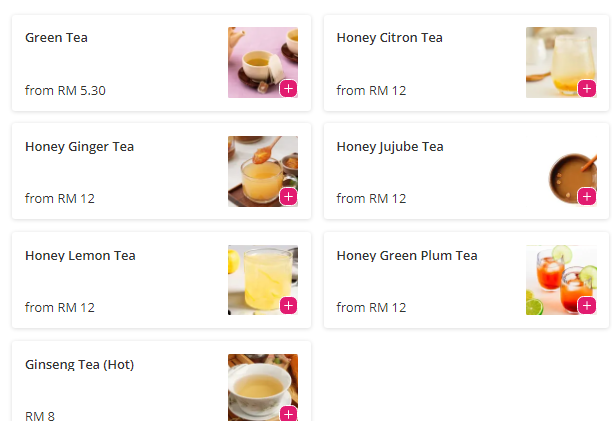 Soda 소다\
| | |
| --- | --- |
| Coca-Cola | RM 6.60 |
| Sprite | RM 6.60 |
| Bongbong Grape Juice | RM 8 |
| Demisoda Peach | RM 8 |

Alcohol 술
Tankatsu Alternative Restaurants
What should I order at tonkatsu?
When it comes to ordering at tonkatsu, a popular Japanese dish made from breaded and deep-fried pork cutlets, there are a few things to keep in mind. First, tonkatsu is typically served as a set meal, which includes shredded cabbage, rice, miso soup, and pickles. You'll want to make sure you have a big appetite as the portion sizes are generous. Secondly, you can choose between two cuts of pork – hire (tenderloin) or rosu (loin) – depending on your personal preference. And finally, don't forget to try the tonkatsu sauce, a tangy and slightly sweet condiment that pairs perfectly with the crispy pork.
What is the difference between tonkatsu and Tonkotsu?
Many people mistakenly think that Tonkatsu and Tonkotsu are the same dish, but in fact, they are very different. Tonkatsu is a popular Japanese dish consisting of a breaded and deep-fried pork cutlet that is usually served with rice and cabbage. On the other hand, Tonkotsu is a type of ramen broth made from boiling pork bones for many hours, resulting in a rich and creamy soup. So if you're in the mood for a crispy pork cutlet, go for Tonkatsu, but if you're craving a hearty bowl of ramen, Tonkotsu is the way to go!
What type of meal is tonkatsu?
Tonkatsu is a delicious Japanese meal made of breaded and deep-fried pork filet. This crispy and juicy dish is a staple in many Japanese restaurants and is usually served with a special tonkatsu sauce and shredded green cabbage on the side. It's a satisfying and hearty meal that can be enjoyed for lunch or dinner and is perfect for anyone who loves crispy and flavorful dishes.
What does tonkatsu taste like?
Tonkatsu, a popular Japanese dish, has a unique and complex flavor. The crispy and juicy pork cutlet, breaded with panko breadcrumbs, has a subtle meaty taste. The star of the dish, however, is the tangy and savory tonkatsu sauce. The sauce is a perfect blend of sweet, sour, and spicy flavors, with hints of fruit, vegetables, vinegar, and spices. The combination of these flavors gives tonkatsu a delectable and unforgettable taste.
How healthy is tonkatsu?
When it comes to the nutritional value of tonkatsu, unfortunately, it is not the healthiest dish. This Japanese delicacy is essentially a deep-fried pork cutlet that is coated with breadcrumbs. As a result, it is high in calories, fat, and sodium, which is not suitable for individuals who are conscious about their health. Nevertheless, this dish is a popular indulgence among foodies who enjoy its crispy texture and rich, savory flavor. If you're looking for a healthy option, you may want to explore other dishes on the menu.
Why is tonkatsu served with cabbage?
If you've ever had tonkatsu, you may have noticed that it's often served with a side of shredded cabbage. But why? Well, there are a few reasons. First, the refreshing crunch of the cabbage helps balance out the richness and heaviness of the deep-fried pork cutlet. It also acts as a palate cleanser between bites, allowing you to fully appreciate the flavors of the tonkatsu and the accompanying sauce. Additionally, cabbage is a great source of fiber and vitamins, making this meal a bit healthier and more balanced. So don't skip the cabbage – it's an essential part of the tonkatsu experience!
Is tonkatsu sauce halal?
Many people who follow a halal diet may wonder if tonkatsu sauce is permissible for them to consume. It's important to note that the sauce itself does not contain any non-halal ingredients. However, the dish is traditionally made with pork, which is not halal. If you substitute the pork with chicken, the dish becomes known as 'Torikatsu,' which can be halal if prepared with halal chicken. So, while the sauce is halal, it's important to be mindful of the ingredients used to make the dish itself.
Author: Alia Izzati
Alia Izzati is an experienced food critic and writer based in Malaysia. She is the author of several popular articles on the websites klfoodie.com and eatzeely.com, where she covers a wide range of topics related to restaurants and their menus. With a keen palate and a passion for exploring the culinary landscape of her home country, Alia is known for her thoughtful and in-depth reviews of the latest dining trends and hotspots. Whether you're looking for the best new places to eat in Malaysia or just want to stay up-to-date on the latest food news, Alia's articles are a must-read for anyone with an interest in the culinary arts.