YOUNGS Bar & Restaurant Menu Prices Singapore 2023
YOUNGS Bar & Restaurant wanted to share their passion with you and create an environment where you could relax and enjoy a great meal with friends and those you love. When you're looking for a casual evening with friends, or a delicious meal to take home, YOUNGS Bar & Restaurant Singapore is the place to be. One of the best things about this YOUNGS Bar & Restaurant SG is that it is open from morning till late at night, so you can visit them anytime during the day or night if you want to have some good food cooked by professional chefs who know how to prepare delicious dishes using fresh ingredient
List of YOUNGS Bar & Restaurant Menu 2023 with prices
s.Below you will find the latest Lists of YOUNGS Bar & Restaurant Menu 2023 Singapore with prices. YOUNGS Bar & Restaurant Menu & prices are sourced directly from YOUNGS Bar & Restaurant Singapore outlets.
Soups
Minestrone Soup
Cabbage, Carrot, Zucchini, Potato, Macaroni, Tomato. Served with Toasts
S$10.00
Black Truffle Mushroom Veloute
Forest Mushroom, Cream, Watercress. Served with Toasts
S$12.00
Appetizers
Watermelon Flambee
Sous Vide Watermelon, Sambuca Flambler & Tarragon, Feta Cheese, Rocket,
Balsamic Glaze
S$12.00
Baked Escargots
Escargots, Parsley, Butter, Thyme, Melba Toasts
S$16.00
Sea Urchin Yuzu Panna Cotta
Sea Urchin, Panna Cotta, Ebiko, Alfalfa Sprouts
S$18.00
Pan-Seared Foie Gras
Caramelised Pineapple, Strawberry Coulis, Mesclun Salad, Toasts
S$20.00
Mussel Pot
Moules Marinière
Blue Mussels, White Wine Broth, Shallots & Garlic Confit, Leek, Celery
S$23.00
Burgers
Chicken Escalope Burger
Handmade Charcoal Bun, Chicken Thigh, Yuzu Mayo, Rocket, Roma Tomatoes
S$20.00
Gold Is The New Black Burger
Handmade Charcoal Bun, Truffle-Infused Wagyu Beef, Roma Tomatoes, Gherkin,
Mayo, Onion Ring, Sliced Cheddar, Edible Gold Dust
S$24.00
Impossible Burger
Handmade Charcoal Bun, Impossible Patty, Lettuce, Roma Tomatoes, Onion
Ring, Mayo, Sliced Cheddar
S$26.00
Mains
Buttermilk Chicken Schnitzel
Fresh Chicken Thigh, Rocket Salad, Shredded Parmesan, Housemade Yuzu Sauce
S$17.00
Stuffed Squid Risotto
Risotto, Whole Squid, Shrimps, Roasted Herb Potatoes, Chunky Carrots, Wild
Mushrooms, Truffle Cream Sauce
S$24.00
Pan-Seared Salmon Belly (250g)
Salmon Belly, Creamy Polenta, Provençal Vegetable, Mousseline Sauce, Salmon
Roe
S$28.00
Grilled Iberico Pork Chop (250g)
Iberico Pork, Hummus, Buttered Broccolini, Mustard Cream Sauce
S$36.00
Pasta
Black Olive & Mushroom Aglio Olio
Black Olives, Mushroom Medley, Chilli Flakes, Garlic, Asparagus, Parmesan
S$16.00
Carbonara
Streaky Bacon, Cream Sauce, Parmesan, 63 Degree Sous Vide Egg
S$18.00
Sous Vide Pork Belly
Pork Belly, Garlic, Shallot, White Wine Jus, Celery, Leek
S$18.00
Prawn Aglio Olio
Sautéed Bay Prawns, Chilli Flake, Garlic, Asparagus, Cherry Tomato, Parmesan
S$20.00
Seafood Marinara
Prawns, Salmon, Clam, Tomato Purée, Basil, Parmesan
S$20.00
Pizza
Margherita Pizza
Sliced roma tomatoes, basil leaves
S$16.00
Bacon & Egg Pizza
Chef's recommendation. Streaky bacon, egg, basil, red onion, mozzarella &
cheddar cheese
S$18.00
Hawaiian Pizza
Honey baked ham, pineapple, basil
S$18.00
ImpossibleTM
Impossible Meat Bolognese, Red Onion, Black Olives, Basil
S$18.00
Spicy Pulled Pork
Pulled pork, homemade BBQ sauce, jalapenos, red onions, chili flakes,
mozzarella & cheddar cheese
S$18.00
Sweet Shrimp
Amaebi Shrimps, Bell Peppers, Chilli Flakes, Basil
S$18.00
Prosciutto di Parma
Parma Ham, Roma Tomatoes, Basil, Rocket
S$20.00
Light Bites
Herb Salted Cashews
Warm cashew nuts tossed in housemade herb salt
S$6.00
Nacho Chips
Crispy Chips. Served with Cheese Dip
S$8.00
Crispy Luncheon Wedges
Battered Fried Chicken Luncheon Meat. Served with Chilli Dip
S$10.00
Thick-Cut Fries
Thick-Cut Fries
S$10.00
Chicken Wings
Chicken Wings
S$14.00
Crispy Baby Squids
Fried Baby Squid. Served with Housemade Sweet & Spicy Dip
S$14.00
Fried Sweet Shrimps
Amaebi Shrimp Karaage. Served with Thai Chilli Dip
S$14.00
Spicy Chilli Prawns
Sautéed Prawns, Chilli Flake, White Wine. Served with Toasts
S$14.00
Whitebait
Fried Battered Tiny Fish. Served with Coriander Aioli Dip
S$14.00
Beef Cubes
Sautéed Beef Tenderloin Cubes. Served with Ginger Ponzu Sauce, Garlic
Chips, Mesclun Salad
S$16.00
Sharing Platter
Amaebi Sweet Shrimp Karaage, Cajun Spiced Chicken Wings, Nacho Chips,
Truffle Parmesan Fries
S$30.00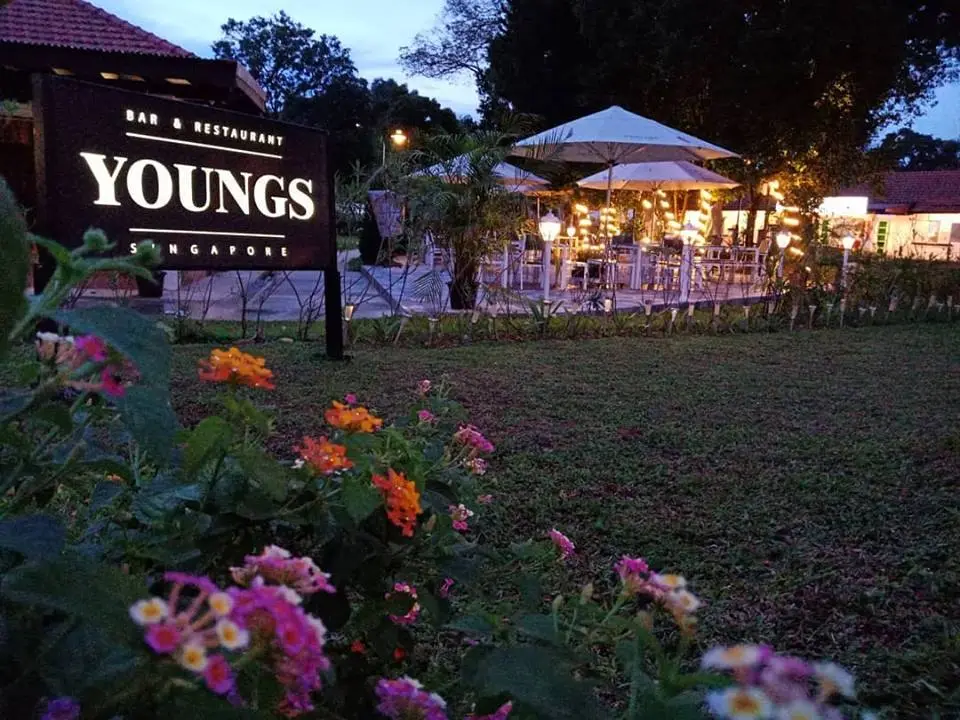 YOUNGS Bar & Restaurant alternative restaurants 
How many branches does YOUNGS Bar & Restaurant have in Singapore?
YOUNGS Bar & Restaurant had one branch in Singapore, which is located at 3 Hyde Park Gate, #01-11 The Oval @ SAP, Singapore 799531.
Who is the owner of YOUNGS Bar & Restaurant Singapore?
Great Chef; Anna Smith. Chef; Michel Carter. Manager; Sara Burton. Finance; Tyler Hart. Marketing.
Does YOUNGS Bar & Restaurant accept credit cards?
Yes, you can use a credit card for food. You can buy food with a credit card at grocery stores, restaurants, wholesale clubs, food trucks, fast food locations, and anywhere else that sells food and accepts credit card payments. In fact, using the right rewards credit card to buy food can save you up to 6%.
Is YOUNGS Bar & Restaurant Halal?
It is not a halal-certified restaurant.
Does YOUNGS Bar and Restaurant offer takeout?
Yes, YOUNGS Bar and Restaurant offer takeout services.
How is YOUNGS Bar and Restaurant rated?
YOUNGS Bar and Restaurant is rated accordingly in the following categories by Tripadvisor travelers:
Food: 4
Service: 4
Value: 3.5
Atmosphere: 3.5
Author: Christopher Tan
Hi there! I'm Christopher Tan, an award-winning writer, cooking instructor, and photographer. My passion lies in combining my love for words, images, and of course, food to create meaningful experiences. I have been honored to have my work published in numerous esteemed publications, including the Sunday Times and Straits Times in Singapore, Saveur magazine in America, and The Peak magazine.
I have expressed my love for food through the written word by authoring and co-authoring multiple cookbooks, including Chinese Heritage Cooking, Ask The Foodie and NerdBaker. I am thrilled to inspire others to create their own meaningful experiences through food, through my writing and teachings. I write restaurant menus and review on eatzeely.com