Bayswater Kitchen Menu Prices Singapore 2023
If you are planning to visit Bayswater Kitchen restaurant in Singapore, then you should check out this page for the Latest Bayswater Kitchen Menu 2023 with prices. They have an array of delicious and inspiring options that will leave you satisfied and ready to take on the rest of your day. With such a huge selection of dishes at Bayswater Kitchen Singapore Menu, how do you know what to order? Don't worry—they've got you covered. They've broken down their menu into sections based on your mood: Whether you're looking for something light or something thick and hearty, they've got what you need.
Bayswater Kitchen wanted to share its passion with you and create an environment where you could relax and enjoy a great meal with friends and those you love. When you're looking for a casual evening with friends, or a delicious meal to take home, Bayswater Kitchen Singapore is the place to be. One of the best things about this Bayswater Kitchen SG is that it is open from morning till late at night, so you can visit them anytime during the day or night if you want to have some good food cooked by professional chefs who know how to prepare delicious dishes using fresh ingredients.
Bayswater Kitchen Menu Singapore 2023 with prices
Below you will find the latest Lists of Bayswater Kitchen Menu 2023 Singapore with prices. Bayswater Kitchen Menu & prices are sourced directly from Bayswater Kitchen Singapore outlets.
STARTERS
Freshly Shucked Oysters
Each
S$6.00
Mussels and Clams in a Pot
Marinière, Garlic Sourdough
S$18.00
Trout Carpaccio
Avocado & Wasabi Purée, Soy Citrus Dressing
S$19.00
Seared Tuna Niçoise
Olives, Capers, Green Beans, Cage Free Egg
S$18.00
Seared Scallops
Pumpkin, Quinoa, Apple, Mint, Hazelnut Pesto
S$22.00
Chicken Liver Parfait
Onion Jam, Grilled Sourdough
S$14.00
Tuscan Kale & Purple Cabbage Slaw
Dukkah, Edamame, Sesame Dressing
S$12.00
Soup of the Day
Ask our friendly staff
S$12.00
Shellfish Bisque
Crab Toast, Salsa Verde
S$17.00
Grilled Spanish Octopus
Smoked Roe, Gremolata, Pinto Beans
S$26.00
SEAFOOD
Whole Red Snapper
Fries, Salad, Lemon Vinaigrette
S$38.00
Fisherman's Pie
Assorted Fish, Mash, and Greens
S$28.00
Linguine Vongole
Chilli, Garlic, Lemon
S$25.00
Grilled King Prawns
Fries, Salad, Curried Aioli
S$26.00
Traditional Fish & Chips
Mushy Peas, Tartar Sauce
S$26.00
Seafood Tagliatelle
Assorted Daily Catch
S$32.00
Seafood Stew
Prawns, Mussels, Clams & Fish in Shellfish Broth
S$30.00
Roasted Barramundi
Potato Galette, Seaweed Butter
S$28.00
SHARING
Fisherman's Feast 76 (serves 2)
additional 35 per person Linguine, Prawn, Mussel, Clam, Squid, Assorted
Fish, cooked with Seafood Stock & Tomato
S$76.00
Chef's Seafood Platter 90 (serves 2)
additional 40 per person Grilled Prawn, Beer-Battered Cod, Soft Shell Crab,
Onion Rings, Grilled Calamari, Mussels & Clams, Tuna Tartare, Oysters (2pp)
S$90.00
MEAT
Australian Stockyard 150-day Grain-Fed Rib Eye 250g
House Salad, Fries, Red Wine Jus
S$42.00
Grilled Free-Roaming Chicken Breast & Leg
Creamed Potato, Cauliflower, Green Beans, Jus
S$29.00
Australian Grass-Fed Tenderloin 200g
House Salad, Fries, Béarnaise
S$55.00
Vegan / Vegetarian
Vegetable Aglio Olio
Broccoli, Kale, Edamame, House-Dried Tomatoes, Olive Oil
S$24.00
Assorted Mushroom Risotto
Parmesan, Crispy Sourdough, Chives
S$24.00
SIDES
Butter-Roasted Cauliflower
Parmesan, Hazelnut Pesto
S$8.00
Straight Cut Fries
Seaweed, Sriracha Garlic Dip Truffle Mac & Cheese Crispy Sourdough
S$8.00
Sautéed Tuscan Kale
Baby Spinach, Garlic
S$8.00
Cauliflower 'Wings'
BBQ Sriracha Dip
S$8.00
Sparkling
Pasqua Passimento Romeo & Juliet
Prosecco / Verona, Italy
S$75.00
Perrier Jouët Grand Brut
Champagne, France
S$140.00
Raventós i Blanc (Biodynamic)
Blanc De Blancs / Catalunya, Spain
S$95.00
Mercat Brut Nature Reserva
Cava / Catalunya, Spain
S$80.00
Leeuwin Estate Sparkling Brut
Pinot Noir Chardonnay / Margaret River, Australia
S$130.00
Chocolate Box
Sparkling Shiraz / Barossa Valley, Australia
S$100.00
G.H. Mumm Cordon Rouge Brut
Champagne, France
S$130.00
Rosé & Orange
Small Fry Tangerine Dream
Semillon Blend / Adelaide Hills, Australia
S$90.00
Domaine OTT BY.OTT (Biodynamic)
Rosé / Provence, France
S$95.00
Lucy M Gris De Florette 2016 (Natural)
Pinot Gris / Adelaide Hills, Australia
S$110.00
Small Fry (Biodynamic)
Rosé / Barossa Valley, Australia
S$100.00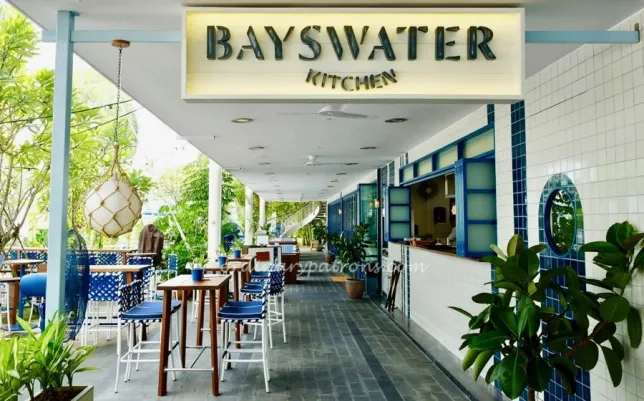 Bayswater Kitchen alternative restaurants 
Does Bayswater Kitchen offer takeout?
Yes, Bayswater Kitchen offers takeout services.
How is Bayswater Kitchen rated?
Bayswater Kitchen has rated accordingly in the following categories by Tripadvisor travelers:
Food: 4
Service: 4
Value: 3.5
Atmosphere: 4.5
How many branches does Bayswater Kitchen have in Singapore?
Bayswater Kitchen had only one branch in Singapore, which was located at Keppel Bay. It is possible that the information has changed since then, so it is best to check with the restaurant directly or search for the latest updates online.
Does Bayswater Kitchen accept credit cards?
Bayswater Kitchen did accept credit cards. Most restaurants in Singapore do accept credit cards, but it is always best to check with the restaurant directly or refer to their website to confirm the modes of payment they accept. This will help to avoid any inconvenience during payment.
Is Bayswater Kitchen Halal?
Bayswater Kitchen is not a Halal-certified restaurant. As a seafood-centric restaurant, they offer a variety of dishes that include seafood and meat, including pork and alcohol.
Author: Christopher Tan
Hi there! I'm Christopher Tan, an award-winning writer, cooking instructor, and photographer. My passion lies in combining my love for words, images, and of course, food to create meaningful experiences. I have been honored to have my work published in numerous esteemed publications, including the Sunday Times and Straits Times in Singapore, Saveur magazine in America, and The Peak magazine.
I have expressed my love for food through the written word by authoring and co-authoring multiple cookbooks, including Chinese Heritage Cooking, Ask The Foodie and NerdBaker. I am thrilled to inspire others to create their own meaningful experiences through food, through my writing and teachings. I write restaurant menus and review on eatzeely.com