Brio Restaurant Menu Singapore 2023
If you are planning to visit Brio Restaurant restaurant in Singapore, then you should check out this page for the Latest Brio Restaurant Menu 2023 with prices. They have an array of delicious and inspiring options that will leave you satisfied and ready to take on the rest of your day. With such a huge selection of dishes at Brio Restaurant Singapore Menu, how do you know what to order? Don't worry—they've got you covered. They've broken down their menu into sections based on what kind of mood you're in: Whether you're looking for something light or something thick and hearty, they've got what you need.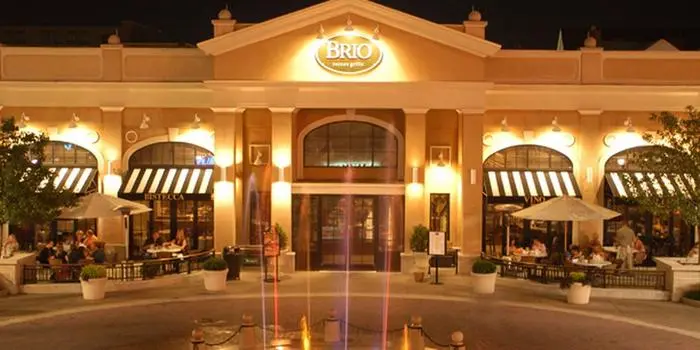 Brio Restaurant wanted to share their passion with you and create an environment where you could relax and enjoy a great meal with friends and those you love. When you're looking for a casual evening with friends, or a delicious meal to take home, Brio Restaurant Singapore is the place to be. One of the best things about this Brio Restaurant SG is that it is open from morning till late at night, so you can visit them anytime during the day or night if you want to have some good food cooked by professional chefs who know how to prepare delicious dishes using fresh ingredients.
Brio Restaurant Menu 2023 with priecs
Below you will find the latest Lists of Brio Restaurant Menu 2022 Singapore with prices. Brio Restaurant Menu & prices are sourced directly from Brio Restaurant Singapore outlets.
SALADS
Guacamole & Tomato Salad
Romaine Lettuce, Avocado & Tomato Salsa, Peach, Pine Nuts, Red Onion,
Shaved Parmesan, Lemon
S$13.80
Salmon Caesar Salad
Romaine Lettuce, Pan Seared Salmon, Olives, Egg, Cherry Tomatoes, Shaved
Parmesan, Croutons
S$14.80
Caponata Salad
Aubergine, Zucchini, Capsicum, Olives, Capers, Cherry Tomatoes, Pine Nuts,
Arugula, Parmesan, Balsamic Olive Oil
S$12.80
P.W.P Salad
Pear, Walnuts, Peach, Spinach, Shaved Parmesan, Cherry Tomatoes, Red Onion,
Balsamic Olive Oil
S$12.80
STARTERS
Soup of the Day
Artisan Italian Multigrain Bun
S$4.50
Pollo Winglets
Crispy Chicken Wings, Hot Pepper Dip
S$8.80
Calamari
Fried Squid Rings, Chilled Pomodoro Dip
S$8.80
Clam Pot
Braised Clams, Spicy Cream Sauce
S$8.50
Fritto Misto
Fried Squid Rings, Prawns, Chilled Pomodoro Dip
S$12.50
Swiss Rosti
Potato Pancake, Smoked Salmon, Crème Fraîche
S$11.50
Mussels N' Clams Aglio Olio
Sautéed Mussels & Clams, Onion, Garlic, Chilli Flake, Cilantro
S$13.80
Sweet Potato Fries
Shaved Parmesan, BBQ Honey Mustard Sauce
S$9.80
Truffle Fries Parmesan
Truffle Oil Infused Fries, Shaved Parmesan Cheese, Garlic Aioli
S$9.80
PIZZA
Margherita
Cherry Tomatoes, Mozzarella, Basil
S$18.00
Diavola
Cherry Tomatoes, Mozzarella, Spicy Salami, Jalapeno, Basil
S$22.50
Quattro Formaggi
Brie, Danish Blue, Mozzarella, Parmigiano Reggiano
S$21.50
Funghi
Mozzarella, Portobello, Button Mushrooms, Truffle Puree, Egg
S$21.50
Allo Scoglio
Mozzarella, Scallops, Squid, Shrimps, Mussels, Clams, Garlic, Basil
S$24.00
Pollo
Smoked Chicken, Basil Pesto, Cherry, Tomatoes, Onion, Parmigiano, Jalapeno
S$22.50
Carbonara
Bechamel, Mozzarella, Parmigiano, Egg, Turkey Bacon, Onion, Black Pepper
S$22.50
PASTA & RISOTTO
Roasted Aubergine & Courgette Spaghetti
Cherry Tomatoes, Zucchini, Eggplant, Chilli Padi, Spinach & Oilve Oil
S$14.20
Truffle Mushroom Ragu Tagliatelle
Sliced Button Mushrooms, Truffle Puree, Parmigiano Reggiano
S$14.80
Smoked Turkey Linguine Carbonara
Turkey Bacon, Leek, Edamame, Parmigiano Reggiano, Tempura Crisps
S$15.20
Wagyu Bolognese Rigatoni
Tradition Beef Ragout, Mushrooms, Parmigiano Reggiano, Basil Pesto
S$16.80
Beef Ragout Tagliatelle
Slow-Braised Hand-Pulled Beef Brisket in Au Jus, Spinach, Cherry Tomatoes,
Parmigiano Reggiano
S$17.50
Gamberetti Pesto Spaghetti
Prawns, Cherry Tomatoes, Parmigiano Reggiano, Toasted Almonds
S$16.80
Calamari Squid Ink Spaghetti
Fried Squid Rings, Fish Roe, Fresh Basil, Lemon
S$16.80
Scallop & Shrimp Risotto
Red Pepper Coulis, Edamame, Mushrooms, Parmigiano Reggiano, Lemon
S$15.80
ENTRÉES
Duck & Waffle
Confit Duck, Waffle Pancake, Egg, Mustard Maple Syrup
S$17.80
Oxtail Bourguignonne
36-Hour Braised Oxtail with Vegetables, Mashed Potato, Au Jus
S$18.80
Brio's Classic Fish & Chips
Pacific Dory Fillet, Tartar Sauce, Thick-Cut Fries
S$14.80
Salmon Aubergine Parmesan
Grilled Salmon, Baked Layered Eggplant in Tomato Ragout, Mozzarella &
Parmesan Cheese, Lentil Cream
S$17.50
Aust Grain-Fed Ribeye
250g
S$22.50
Aust. Grain-Fed Striploin
250g
S$20.50
USDA Angus Choice Ribeye
250g
S$28.50
Grain-Fed Angus Tenderloin
200g
S$28.50
Lamb Rib Confit with Honey BBQ Glaze
3-4 Ribs
S$29.50
Lemon & Herbs Chicken Thigh
Lemon & Herbs Chicken Thigh
S$13.80
BURGERS
French Wagyu Burger
Beef Patty, Onion Marmalade, Blue Cheese, Tomato, Truffle Mayo, Potato Fries
S$16.20
EMO Wagyu Burger
Beef Patty, Egg, Mushrooms, Onion Marmalade, Mild Cheddar, Tomato, Mayo,
Potato Fries
S$16.80
BRIO Wagyu Burger
Beef Patty, Mild Cheddar, Turkey Bacon, Jalapeno, Tomato & Avocado Salsa,
Mayo, Potato Fries
S$17.80
Frenchie Duck Confit Burger
Shredded Duck Confit, Blue Cheese, Onion Marmalade, Arugula, Potato Fries
S$15.80
DESSERTS
Spanish Churros
Fried Spanish Dough Pastry, Chocolate Dip
S$6.80
MILKSHAKES
Salted Caramel
Vanilla Ice Cream, Milk, Salted Caramel Sauce, Dark Chocolate
S$8.50
Mocha Java
Chocolate Ice Cream, Cocoa Powder, Cinnamon, Cold Coffee, Milk
S$8.50
Nutella & Oreo
Vanilla Ice Cream, Milk, Nutella, Oreo
S$8.50
Matcha Vanilla
Vanilla Ice Cream, Milk, Green Tea Powder
S$8.50
COFFEE
Espresso
Espresso
S$3.80
Long Black
Long Black
S$4.00
Cappuccino
Cappuccino
S$4.50
Latte
Latte
S$4.50
Mocha
Mocha
S$4.80
Brio Restaurant alternative restaurants
Author: Christopher Tan
Hi there! I'm Christopher Tan, an award-winning writer, cooking instructor, and photographer. My passion lies in combining my love for words, images, and of course, food to create meaningful experiences. I have been honored to have my work published in numerous esteemed publications, including the Sunday Times and Straits Times in Singapore, Saveur magazine in America, and The Peak magazine.
I have expressed my love for food through the written word by authoring and co-authoring multiple cookbooks, including Chinese Heritage Cooking, Ask The Foodie and NerdBaker. I am thrilled to inspire others to create their own meaningful experiences through food, through my writing and teachings. I write restaurant menus and review on eatzeely.com