Baan Ying Menu Prices Singapore 2023
If you are planning to visit Baan Ying restaurant in Singapore, then you should check out this page for the Latest Baan Ying Menu 2022 with prices. They have an array of delicious and inspiring options that will leave you satisfied and ready to take on the rest of your day. With such a huge selection of dishes at Baan Ying Singapore Menu, how do you know what to order? Don't worry—they've got you covered. They've broken down their menu into sections based on what kind of mood you're in: Whether you're looking for something light or something thick and hearty, they've got what you need.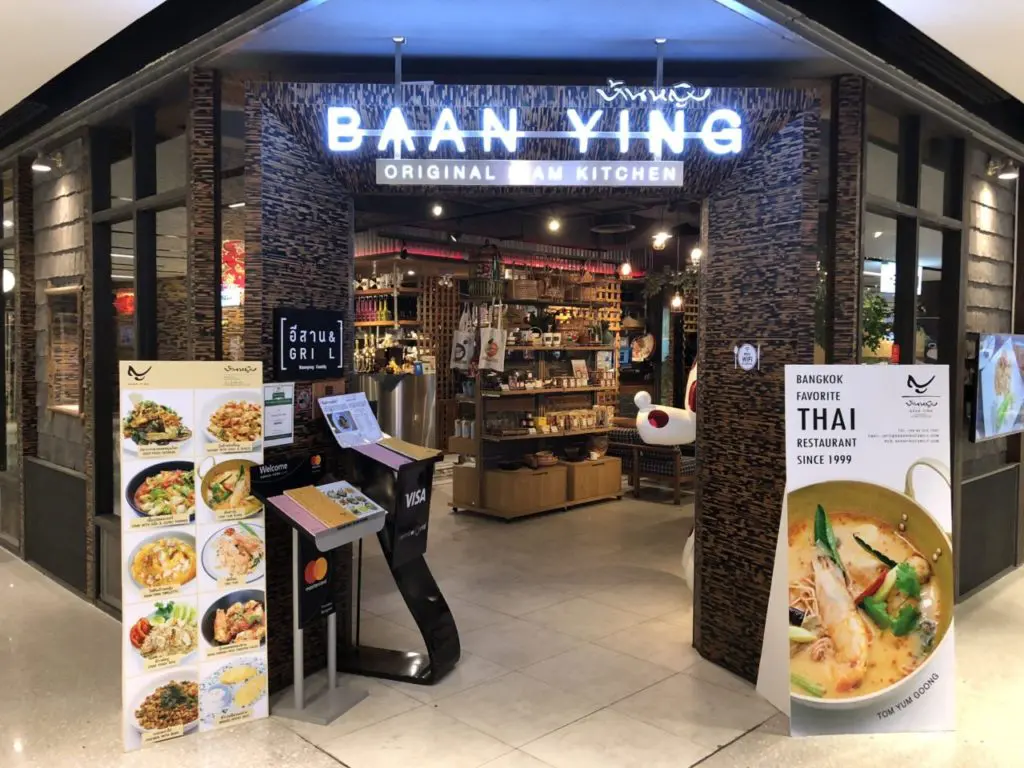 Baan Ying wanted to share their passion with you and create an environment where you could relax and enjoy a great meal with friends and those you love. When you're looking for a casual evening with friends, or a delicious meal to take home, Baan Ying Singapore is the place to be. One of the best things about this Baan Ying SG is that it is open from morning till late at night, so you can visit them anytime during the day or night if you want to have some good food cooked by professional chefs who know how to prepare delicious dishes using fresh ingredients.
Baan Ying Menu Singapore 2023 with priecs
Below you will find the latest Lists of Baan Ying Menu 2023 Singapore with prices. Baan Ying Menu & prices are sourced directly from Baan Ying Singapore outlets.
SET LUNCH
KLANG WAN SET A
Stir-fried Chicken in Chilli Paste & Cashew Nuts, Spicy Mango Salad with
Crispy Fish, Stuffed Bitter GOurd & Glass Noodle in Soup, Steamed Rice,
Dessert of th Day
S$14.80
KLANG WAN SET B
Red Curry with Chicken, Sunny Side Up, Spicy Mango Salad with Crispy Fish,
Steamed Rice, Dessert of th Day
S$14.80
KLANG WAN SET C
Spaghetti and Clam with Garlic and Dried Chili, Stri-fried Green Bean with
Bacons, Spicy Mango Salad with Crispy Fish, Dessert of th Day
S$16.80
BAAN YING AFTERNOON TEA SET
Cupid Package
Thai Minced Chicken Salad on spoon, Breaded Tofu Cubes with Peanut Chili
Dip, Coconut Sago with Corn, The Plating-Fruits Shaped Mung Beans, Thai
Milk Tea (Hot/Cold)
S$16.80
Romance Package
Fresh Vegetable Rice Wraps, Baan Ying Signature Chicken Wings, Thai Grilled
Pork Skewers with Sticky Rice, Coconut Sago with Corn, The Plating-Fruits
Shaped Mung Beans, Thai Milk Tea & Lemongrass Juice (Hot/Cold)
S$16.80
Angel Package
Shrimp Spring Rolls, Rice Stuffed Chicken Wings, Corn Cake, Coconut Sago
with Corn, The Plating-Fruits Shaped Mung Beans, Thai Milk Tea & Lemongrass
Juice (Hot/Cold)
S$20.80
SNACK & SALAD
MOO SAM CHAN TOD NAM PLA
Crispy Pork Belly
S$8.80
LAAB MOO TOD
Northern Eastern Fried Pork Ball (MUST TRY)
S$12.80
TOD MAN GOONG KAO POD
Pork & Shrimp Corn Cake
S$8.80
GAI HOR BAI TOEY
Pandan Chicken with Thai Chilli Dip
S$10.80
PEEK GAI TOD GLUEA
Baan Ying Signature Mid Wings (MUST EAT)
S$9.80
GONG TAO YUD SAI
Ban Ying Stuffed Tofu Skin
S$9.80
TAO HU TOD
Beaded Tofu Cubes with Peanut Chilli
S$7.80
KAI LOOK KUEY
Fried Boiled Eggs in Tamarind Sauce
S$7.80
KHANOM PANG NA MOD GOONG
Thai Street Fried Toast with Shrimp & Pork Paste
S$9.80
TUM THAI
Green Papaya Salad (Tom Tum)
S$11.80
SALAD PUAY LENG KOR MOO YANG
Pan Seared Pork Neck Salad
S$14.80
YUM TUA PLU
Wing BEan Salad in Coconut Milk
S$12.80
YUM WOOD SEN TALAY
Seafood Glass Noodle Salad
S$14.80
YUM SOM-O
Pomelo Salad with Shrimp & Bacon
S$12.80
YUM MOO SUB VOLCANO
Signature Mince Pork Salad
S$12.80
NAMTOK HUA YANG
Grilled USA Angus Beef Rib Eye with Herbs, Spicy & Sour Dressing
S$19.80
YUM PAK BOONG TOD
Fried Morning Glory with Minced & Shrimp in Spicy Dressing
S$12.80
CURRY & SOUP
KAENG KIEW WAN GAI/MOO
Green Curry with Chicken/Pork
S$14.80
KAENG SOM CHAOM GOONG
Shrimp & Acacia Omelette in Tamarind Curry Soup
S$16.80
MASSAMAN GAI
Massaman Chicken Curry with Potatoes
S$15.80
CHOO CHEE GOONG MAE NAM
River Prawns in Red Curry (3pcs)
S$18.80
PANANG GAI
Red Curry with Chicken
S$15.80
KAENG KUA HED TOB & HOY MANG POO
Mussels & Puffball mushroom in Fragrant Curry
S$16.80
KAENG LEUNG PLA KAPONG
Seabass in Yellow Curry Soup
S$18.80
TOM YUM GOONG
Tom Yum Goong (3pcs)
S$18.80
TOM YUM HED NAM KHON/NAM SAI
Spicy Creamy/Clear Soup with HUSHROOM (No Meat)
S$12.80
TOM YUM TAIAY NAM KHON / NAM SAI
Spicy Creamy/Clear Soup with SEAFOOD
S$16.80
TOM YUED PUAY LENG MOO SUB / HED
Chinese Spinach with Pork / Mushroom Soup
S$13.80
TOM JUED MARA YUD SAI
Stuffed Bitter Goued & Glass Noodle in Soup
S$13.80
ENTREE
GAI PAD PRIK PAU MED MAMUANG HIMAPAN
Chicken in Bean Ying Chilli Paste & Cashew Nuts
S$12.80
PAD NAM LIEB MOO SAB / OR HED
String Bean & Pork or Mushroom Stir Fried with Chinese Olives
S$11.80
NUA YANG JIM JAEW
Isan Styled grilled ribeye steak served with thai spicy red sauce
S$28.80
POO PAD PONG KAREE / POO NIM PAD PONG KAREE
Stir-fried sof Shell Crab Yellow Curry
S$18.80
KOR OO YANG JIM JAEW
Pan Seared Pork Neck Serced with Isan Chili dip
S$15.80
HOI LAO PAD PRIK SOD
Stir-fried Clam with Chili, Sweet Basail & Garlic
S$12.80
MOO KROB / TAO HOO PAD PRIK KHING
Pork Belly or Tofu with French Beans in Baan Ying Chili Paste
S$14.80
KANAG PAD KAI KEM
Salted Egg Baby Kailan
S$13.80
MARA PAD KAI
Fried Eggs with Bitter Gourd
S$13.80
Rice & Noodles
KHAO PAD NAM PRIK NOOM
Baan Ying Signature Home made Green Chili Fried Rice
S$12.80
KHAO PAD SAPPAROT
Thai Pineapple Fried Rice
S$12.80
KHAO PAD TOM YUM TALAY
Tom Yum Seafood Fried Rice
S$12.80
KHAO PAD PLA KEM
Salted Fish Fried Rice
S$9.80
KHAO PAD ROD FAI
Ayudhaya Railway Fried Rice served with Breaded squid ring & prawns
S$14.80
KHAO PAD AR SOR
Thai Aunty Fried Rice with Chicken
S$10.80
KHAO PAD NAM LIEB MOO SAB
Chinese Olive Fried Rice
S$11.80
KHAO PAD POO
Crab Meat Fried Rice
S$12.80
KHAO PAD MOO KROB KAI KEM
Pork Belly Fried Rice with Salted Egg
S$11.80
MAMA PAD GOONG MOO SAB PO KAI KON
Fried Mama Noodles with Shrimp & Chicken
S$11.80
THAI SUKI (DRY OR SOUP)
Thai Suki (Dry or Soup)
S$14.80
ETC
KHAO SOUY (BOWL)
Pot of Steam Rice (4-5pax)
S$4.00
KHAO SOUY (PLATE)
Steamed Rice
S$1.20
KHAO NIEW
Sticky Rice
S$2.00
Baan Ying Alternative Restaurants
Author: Christopher Tan
Hi there! I'm Christopher Tan, an award-winning writer, cooking instructor, and photographer. My passion lies in combining my love for words, images, and of course, food to create meaningful experiences. I have been honored to have my work published in numerous esteemed publications, including the Sunday Times and Straits Times in Singapore, Saveur magazine in America, and The Peak magazine.
I have expressed my love for food through the written word by authoring and co-authoring multiple cookbooks, including Chinese Heritage Cooking, Ask The Foodie and NerdBaker. I am thrilled to inspire others to create their own meaningful experiences through food, through my writing and teachings. I write restaurant menus and review on eatzeely.com