Black Tap Menu Singapore 2023
If you are planning to visit Black Tap restaurant in Singapore, then you should check out this page for the Latest Black Tap Menu 2023 with prices. They have an array of delicious and inspiring options that will leave you satisfied and ready to take on the rest of your day. With such a huge selection of dishes at Black Tap Singapore Menu, how do you know what to order? Don't worry—they've got you covered. They've broken down their menu into sections based on what kind of mood you're in: Whether you're looking for something light or something thick and hearty, they've got what you need.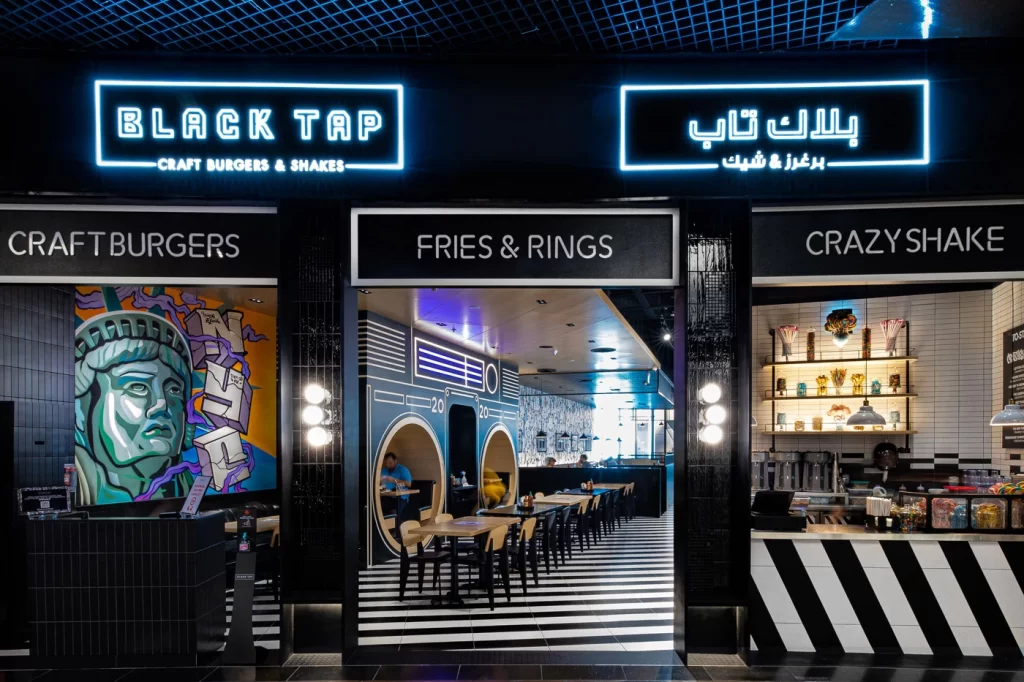 Black Tap wanted to share their passion with you and create an environment where you could relax and enjoy a great meal with friends and those you love. When you're looking for a casual evening with friends, or a delicious meal to take home, Black Tap Singapore is the place to be. One of the best things about this Black Tap SG is that it is open from morning till late at night, so you can visit them anytime during the day or night if you want to have some good food cooked by professional chefs who know how to prepare delicious dishes using fresh ingredient
Black Tap Menu Singapore 2023 with priecs
s.Below you will find the latest Lists of Black Tap Menu 2023 Singapore with prices. Black Tap Menu & prices are sourced directly from Black Tap Singapore outlets.
CRAFT BURGERS
THE ALL-AMERICAN BURGER
prime burger, lettuce, tomato, pickles, american cheese, special sauce
S$23.00
THE MEXICO CITY
prime burger, pepperjack cheese, pickled jalapenos, chipotle mayo, crispy
onion ring
S$25.00
THE PIZZA BURGER
prime burger, zesty tomato sauce, fresh mozzarella, shaved parmesan
S$24.00
CHILI CHEESE BURGER
prime burger, house chili, american cheese, zesty cheese sauce, frizzled
onions
S$25.00
THE CALIFORNIAN
all natural turkey burger with avocado, swiss cheese, truffle mayo
S$24.00
THE LAMB BURGER
grass-fed lamb burger, house-made pickles, swiss cheese, buttermilk dill
S$24.00
THE OLD FASHIONED
prime burger, shiitake mushrooms, swiss cheese, caramelized onion,
horseradish sauce
S$24.00
THE TEXAN BURGER
prime burger, aged cheddar, crispy onion ring, bacon, sweet baby rays bbq,
mayo
S$26.00
THE FALAFEL BURGER
falafel patty, tahini, pickled onion, greek feta, hummus
S$21.00
THE GREG NORMAN
1/2 pound wagyu beef burger, house buttermilk-dill, blue cheese, arugula
S$27.00
THE IMPOSSIBLE ALL AMERICAN
impossible burger, american cheese, special sauce
S$29.00
THE CAROLINA BURGER
prime burger, american cheese, smoky pulled pork, buttermilk slaw, special
sauce, carolina bbq
S$26.00
CRAFT BURGER SALADS
BLACK TAP BURGER SALAD
prime burger, lettuce, tomato, cheese, cucumber, pickles, scallions, bacon,
special sauce
S$23.00
TURKEY BURGER SALAD
all natural turkey burger, kale, apple, crumbled blue cheese, avocado,
dried cranberries, house buttermilk-dill dressing
S$24.00
GREEK LAMB BURGER SALAD
grass fed lamb burger, feta, tomato, cucumbers, olives, pickled onions,
lemon dressing
S$24.00
VEGAN SPINACH SALAD
baby spinach, quinoa, pomegranate, avocado, apples, scallions, cilantro,
spiced glazed pecans, lemon miso vinaigrette
S$21.00
WAGYU BURGER SALAD
wagyu beef, fresh mozzarella, arugula, roasted tomatoes, roasted pine nuts,
chimichurri, shaved parmesan
S$27.00
CRISPY CHICKEN CAESAR SALAD
crispy chicken, lettuce, roasted tomato, moroccan spice, shaved parmesan,
croutons, caesar dressing
S$23.00
HOUSE-MADE FALAFEL BURGER SALAD
house-made falafel patty, lettuce, cucumber, tomatoes, kalamata olives,
hummus, feta, pickle onions, tahini dressing
S$21.00
HOUSE COBB SALAD
lettuce, avocado, tomato, pickled onions, hard boiled egg, olives,
cucumber, bacon, blue cheese, scallion, house buttermilk-dill
S$18.00
WINGS
SPICY KOREAN BBQ
toasted sesame seed & scallion, served with buttermilk-dill dressing
S$15.00
CAROLINA BBQ
sweet & smoky bbq, fresh herbs, served with house buttermilk-dill
S$15.00
TEXAN BBQ
Sweet bbq, scallion, served with house buttermilk-dill
S$15.00
MEXICAN HOT SAUCE
Spicy hot sauce, blue cheese crumbles, scallion, served with blue cheese
dressing
S$15.00
CHICKEN & SANDWICHES
CRISPY CHICKEN SANDWICH
korean BBQ, buttermilk coleslaw, cilantro, fresh lime & spicy mayo, served
with fries
S$23.00
BAJA GRILLED CHICKEN SANDWICH
cajun grilled chicken breast, fresh avocado, salsa verde, bacon, pepper
jack cheese, chipotle mayo, cilantro, fresh lime, pico de gallo, served
with fries
S$23.00
VEGAN NASHVILLE HOT
breaded portobello, nashville hot sauce, coleslaw, pickles, on a vegan bun
S$21.00
PBR BATTERED HOKI SANDWICH
PBR battered hoki, lemon pepper aioli, buttermilk coleslaw, parsley, fresh
lemon
S$23.00
FRIES & RINGS
IDAHO FRIES
S$11.00
SWEET POTATO FRIES
S$11.00
ONION RINGS
S$11.00
SNACKS & SIDES
FRIED MOZZARELLA
smoky chipotle tomato sauce
S$14.00
FRIED PICKLES
served with buttermilk dill
S$9.00
BUTTERMILK FRIED CHICKEN TENDERS
with house buttermilk-dill, korean bbq & lime honey mustard
S$15.00
CAESAR SALAD
shaved parmesan, croutons
S$10.00
GREEK SALAD
tomato, cucumber, olives, feta, lemon
S$10.00
BUTTERMILK COLESLAW
kosher dill pickle
S$8.00
CHILI CON CARNE & CHIPS
pico de gallo, crema with warm tortilla chips
S$12.00
CRISPY BRUSSELS SPROUTS
sesame-tahini
S$14.00
GUAC & CHIPS
salsa verde, pico de gallo, cilantro
S$11.00
QUESO & CHIPS
zesty cheese sauce with warm tortilla chips
S$11.00
HOUSE SALAD
lettuce, tomato, cucumber, pickled onion, house vinaigrette
S$8.00
TERIYAKI BROCCOLI
ginger, garlic, sesame, scallion
S$13.00
ARUGULA SALAD
roasted tomatoes, shaved parmesan
S$10.00
CLASSIC SHAKES
CHOCOLATE
S$12.00
VANILLA
S$12.00
COFFEE
S$12.00
BLACK CHERRY
S$12.00
STRAWBERRY
S$12.00
CARAMEL
S$12.00
NUTELLA
S$12.00
PEANUT BUTTER
S$12.00
OREO COOKIES & CREAM
S$12.00
CRAZYSHAKE
COTTON CANDY
vanilla frosted rim with blue, pink & pearl chocolates topped with a pink
lollipop, rock candy, whipped cream & cotton candy
S$24.00
CHURRO CHOCO TACO
vanilla frosted rim with cinnamon toast crunch topped with a choco taco,
two churros, whipped cream & dulce de leche drizzle
S$24.00
THE CAKESHAKE
vanilla frosted rim with rainbow sprinkles topped with a funfetti cake
slice, whipped cream, rainbow sprinkles & a cherry limited quantity per day
S$22.00
THE COOKIE SHAKE
vanilla frosted rim with cookie crumbles topped with a
'cookiewich,'crumbled cookies, chocolate chips, whipped cream & chocolate
drizzle
S$21.00
SWEET 'N SALTY
chocolate frosted rim with chocolate gems & PB cups topped with a sugar
daddy, pretzel rods, chocolate covered pretzel, whipped cream & chocolate
drizzle
S$22.00
BROOKLYN BLACKOUT
chocolate frosted rim with mini chocolate chips topped with a chocolate
brownie, whipped cream & chocolate drizzle
S$20.00
COOKIES 'N CREAM SUPREME
vanilla frosted rim with crushed oreos topped with a 'cookies 'n cream'
sandwich, crumbled oreo, whipped cream & chocolate drizzle
S$22.00
BAM BAM SHAKE
vanilla frosted rim with fruity pebbles topped with a fruity pebbles rice
krispy treat, strawberry pop tart, laffy taffy, whipped cream & a cherry
S$20.00
VEGAN BLACK 'N WHITE CAKESHAKE
vanilla frosted rim with mini chocolate chips topped with a black 'n white
cake slice, whipped cream & chocolate drizzle
S$25.00
MOCKTAILS
PINEAPPLE GINGER BEER
fresh pineapple juice, fresh ginger & lime
S$12.00
RASPBERRY HONEY RICKY
raspberry, fresh lime & honey
S$12.00
BEVERAGES
COKE
S$6.00
GRAPE FANTA
S$6.00
LEMONADE
S$7.00
SAN PELLIGRINO
S$10.00
COKE ZERO
S$6.00
TEA
S$6.00
PASSIONFRUIT LEMONADE
S$7.00
SPRITE
S$6.00
COFFEE
S$6.00
STRAWBERRY LEMONADE
S$7.00
ORANGE FANTA
S$6.00
ICED TEA
S$7.00
FIJI
S$10.00
COCKTAILS
TOKYO LEMONADE
citrus sake, yuzu, lemon
S$21.00
ACES HIGH
aged rum, fresh lime, pineapple, honey
S$21.00
STRAWBERRY SMASH
silver rum, mint, lime, strawberry
S$21.00
APEROL SPRITZ
aperol, prosecco, club soda
S$21.00
CLASSIC NEGRONI
gin, campari, sweet vermouth, orange twist
S$21.00
LESTER'S BOY
tequila, campari, fresh orange, lemon
S$21.00
EARL GREY SOUR
bourbon, earl grey, lemon, egg white
S$21.00
UNCLE MIKE'S SUGAR CANE
gin, campari, sweet vermouth, orange twist
S$21.00
SMOKE ON THE WATER
vodka, fresh watermelon, lime, agave, smoked salt
S$21.00
GODFATHER PART II (OLD FASHIONED-STYLE)
bourbon, amaretto, bitters, orange twist
S$21.00
BLACK TAP MULE
vodka, fresh ginger, cucumber, lime, club soda
S$21.00
Black Tap Alternative Restaurants
Author: Christopher Tan
Hi there! I'm Christopher Tan, an award-winning writer, cooking instructor, and photographer. My passion lies in combining my love for words, images, and of course, food to create meaningful experiences. I have been honored to have my work published in numerous esteemed publications, including the Sunday Times and Straits Times in Singapore, Saveur magazine in America, and The Peak magazine.
I have expressed my love for food through the written word by authoring and co-authoring multiple cookbooks, including Chinese Heritage Cooking, Ask The Foodie and NerdBaker. I am thrilled to inspire others to create their own meaningful experiences through food, through my writing and teachings. I write restaurant menus and review on eatzeely.com