Strudel Bakery House Malaysia Menu prices 2023
Hello Strudel Bakery House lovers, are you looking for the latest Strudel Bakery House Menu? You have arrived at the right place then. We have uploaded their complete menu with pictures & updated prices. Below you will find the latest Lists Strudel Bakery House Menu 2023 Malaysia with prices.
Strudel Bakery House Menu Malaysia 2023 With Prices List
Popular
| | |
| --- | --- |
| Apple – Full | RM 45.50 |
| Peach – Full | RM 45.50 |

Butter Cookies
| | |
| --- | --- |
| Checker | RM 32.50 |
| Chocolate Chips Almond | RM 32.50 |
| Lemon | RM 32.50 |
| Almond | RM 32.50 |

Strudels – Half
| | |
| --- | --- |
| Apple – Half | RM 24.70 |
| Strawberry – Half | RM 29.90 |
| Mango – Half | RM 27.30 |
| Peach – Half | RM 24.70 |

Cakes
| | |
| --- | --- |
| Belgian Choc Mousse | RM 71.50 |
Strudels – Full
| | |
| --- | --- |
| Apple – Full | RM 45.50 |
| Peach – Full | RM 45.50 |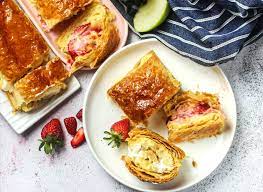 Strudel Bakery House alternative restaurants 
What country is famous for strudel?
When it comes to delectable desserts, few can compare to the famous strudel. While it may be mistakenly associated with Germany, the origins of this beloved pastry can actually be traced back to Austria. In fact, it's considered by many to be the national dish of Austria and is a staple in traditional Viennese cafés.
How big is a full strudel?
If you're wondering about the size of a full strudel, it really depends on the type and where you get it from. Generally, a regular strudel can range from 7cm x 21cm in size, while mini strudels are usually around 4.5cm x 10.2cm. Keep in mind that these measurements are just approximations, and the actual size may vary depending on the recipe or bakery. So whether you're looking to share a full strudel with friends or indulge in a mini one all to yourself, there's a size to suit every appetite.
Should strudel be hot or cold?
Strudel can be served both hot or cold, depending on your preference. However, we suggest heating up the strudel before serving to give it a nice crispy texture and to warm up the filling inside. A sprinkle of powdered sugar on top adds a lovely touch, and a dollop of whipped cream or vanilla ice cream can be the perfect accompaniment to the warm strudel. But if you prefer a cold treat, feel free to enjoy it chilled. Ultimately, it all comes down to your personal taste and how you like to savor this delectable pastry.
What are traditional strudel flavors?
Strudel is a beloved pastry that originated in Austria, and it comes in a variety of traditional flavors. Some of the most popular strudel flavors include apple strudel, which is a classic and often enjoyed with a dollop of whipped cream or vanilla ice cream. There are also sour cherry (Weichselstrudel), sweet cherry, nut-filled (Nussstrudel), apricot strudel, plum strudel, poppy seed strudel (Mohnstrudel), rhubarb strudel, and raisin strudel. Whether you're looking for a sweet or slightly tart flavor, there's a strudel variety to satisfy your taste buds.
Does strudel contain meat?
Strudel is a versatile dish that can be filled with a variety of ingredients including meat, fruit, or vegetables. While many traditional strudel flavors include sweet fillings such as apple, cherry, and apricot, savory varieties also exist. Some popular savory strudel fillings include cabbage, spinach, and ground meat. So, it really depends on the type of strudel you choose. Regardless of the filling, one thing is certain – strudel is a delicious and satisfying treat that is enjoyed by people all over the world.
How long can you store strudel?
If you're a fan of strudel, you might be wondering how long you can store this delicious pastry. Well, the good news is that strudel can be stored in an airtight container in the refrigerator for up to 3 days. To keep it fresh for as long as possible, make sure to seal it tightly to prevent any air from getting in. When you're ready to enjoy it, simply reheat it in the oven or toaster oven at 350°F for a few minutes to bring back that fresh, crispy texture. So go ahead and indulge in a strudel, knowing that you can savor it over the next few days!
Author: Alia Izzati
Alia Izzati is an experienced food critic and writer based in Malaysia. She is the author of several popular articles on the websites klfoodie.com and eatzeely.com, where she covers a wide range of topics related to restaurants and their menus. With a keen palate and a passion for exploring the culinary landscape of her home country, Alia is known for her thoughtful and in-depth reviews of the latest dining trends and hotspots. Whether you're looking for the best new places to eat in Malaysia or just want to stay up-to-date on the latest food news, Alia's articles are a must-read for anyone with an interest in the culinary arts.