Akira Back Menu Singapore 2023
Akira Back restaurant in Singapore wants to know Latest Akira Back Menu 2023 with prices. They have an array of delicious and inspiring options that will leave you satisfied and ready to take on the rest of your day. With such a huge selection of dishes at Akira Back Singapore Menu, how do you know what to order? Don't worry—they've got you covered. They've broken down their menu into sections based on what kind of mood you're in Whether you're looking for something light or something thick and hearty, they've got what you need.
Akira Back wanted to share their passion with you and create an environment where you could relax and enjoy a great meal with friends and those you love. When you're looking for a casual evening with friends or a delicious meal to take home, Akira Back Singapore is the place to be. One of the best things about this Akira Back SG is that it is open from morning till late at night, so you can visit them anytime during the day or night if you want to have some good food cooked by professional chefs who know how to prepare delicious dishes using fresh ingredients.
Akira Back Menu 2023 With Prices List
Below you will find the latest Lists of Akira Back Menu 2023 Singapore with prices. Akira Back Menu & prices are sourced directly from Akira Back Singapore outlets.
Menu
price
Special Sets
Best of Both Worlds
Mushroom Pizza and choice of one roll
S$49.00
Double Up
Choose from the following sets of 2 rolls
S$49.00
The Necessities
Miso Soup, Jidori Chicken, Wagyu Rice, Lets go Nuts!
S$49.00
Two Good to Share
AB MUSHROOM PIZZA King Oyster Mushroom, Umami Aioli, Micro Shiso etc
S$137.00
Two Good to Share – Vegetarian
AB MUSHROOM PIZZA King Oyster Mushroom, Umami Aioli, Micro Shiso etc
S$127.00
Four the Family
King Oyster Mushroom, Umami Aioli, Micro Shiso
S$225.00
Salad, Soups & Sides
Edamame with Sea Salt
Tossed in Sea Salt
S$7.50
Edamame with Sweet Chili
Tossed in Sweet Chili
S$8.90
Horenso Shira AE
Baby Spinach, Sesame Dressing, Rayu
S$18.50
Clear Soup
Shrimp, Mitsuba, Shitake
S$6.50
Miso Soup
Tofu, Negi, Wakame
S$6.50
Spicy King Crab Miso Soup
Traditional Garnish
S$8.60
Rolls & Hand Rolls
Brother from Another Mother
Unagi Kabayaki, Anago Tempura, Shaved Foie Gras Tourchon, Ponzu Mayo
S$27.90
Crispy Pork Belly
Apple Miso, Coleslaw
S$26.90
Holy Cow
Tajima Striploin, Shrimp Tempura, Kimchee Peach Emulsion
S$34.50
Green Monster
Avocado, Cream Cheese
S$25.90
Spicy Seoul
Baby Spinach, Tofu Chojang, Sriacha King Oyster Mushroom, Jalapeño
S$25.90
Perfect Storm
Shrimp Tempura, Salmon Aburi, Cucumber, Chipotle Mayo
S$27.90
Baked Crab Hand Roll
King Crab, Dynamite Mentai Sauce, Crispy Onions
S$17.50
Una-Q Hand Roll
Grilled Unagi, Cucumber, Foie Gras, Balsamic Teriyaki
S$17.50
Rock Shrimp Hand Roll
Kochujang Mayo, Kaiware
S$15.00
Cold Sharing Plates
AB Tuna Pizza
Umami Aioli, Micro Shiso, Truffle Oil
S$29.00
AB Mushroom Pizza
Umami Aioli, Micro Shiso, Truffle Oil
S$25.00
Hot Sharing Plates
Rock Shrimp Tempura
with Sriracha Ranch
S$24.90
Brussels Sprout
S$12.90
Wagyu Tacos
Spicy Tomato Ponzu
S$26.90
A4 Tochigi Striploin
Black Garlic Bordelaise
S$72.90
Mains
48 Hrs Sanchoku Short Rib
Braising Jus with Australian Farm Ribs
S$53.50
Line Caught Pacific Halibut
Soy Beurre Blanc, Sea Beans
S$34.50
Ji-dori Chicken
Truffled potato puree, teriyaki
S$30.00
Charcoal-Grilled Ribeye
350 Days Grain-fed F1 Wagyu Pickled Wasabi Butter Sauce
S$70.00
Shiso Seabass
Lemongrass Broth, Shiso Oroshi
S$38.90
Tofu Steak
Roasted mushroom, Chojang sauce
S$30.00
Rice
Gyudon
Saga gyu ribcap, foie gras, onsen tamago
S$47.50
Butadon
Iberico Pork Jowl, Mustard Maple Dressing, Ajitama
S$42.00
King Crab Fried Rice
Japanese brown rice topped with crab meat
S$23.90
Wagyu Fried Rice
Japanese brown rice topped with wagyu
S$21.90
Vegetarian Fried Rice
Assorted Vegetables
S$18.90
Weekday Dinner Exclusive
Only available for orders placed for 06:00 PM to 09:00 PM on Mon – Thu
S$15.12
Desserts
Lets go Nuts!
Pecan Tart with Roasted Apricot And Caramel Miso
S$12.90
Apple Crumble Tart
Speculoos Apple Crumble, Blueberry Compote
S$12.90
AB Madeleines
Japanese-Inspired Madeleines including Kuro Goma Banana, Matcha Citron,
Kinako Azuki (Gluten-Free), Yuzu Raspberry, Miso Sweet Corn
S$10.00
AB Basque Cheesecake
Cream Cheese, Taleggio, Smoked Scamorza (6 inch Full Cake)
S$48.00
Beverages
AB Honjozo
720ml per bottle
S$158.90
AB Junmai Ginjo
720ml per bottle
S$190.50
AB Nigorizake
720ml per bottle
S$211.90
AB Yamabudo-shu
360ml per bottle
S$106.00
Wines
Domaine Ellevin Chablis, France
750ml per bottle
S$67.90
Concha y Toro Terrunyo Sauvignon Blanc, Chile
750ml per bottle
S$71.50
Cecchi Chianti Classico, Italy
750ml per bottle
S$60.50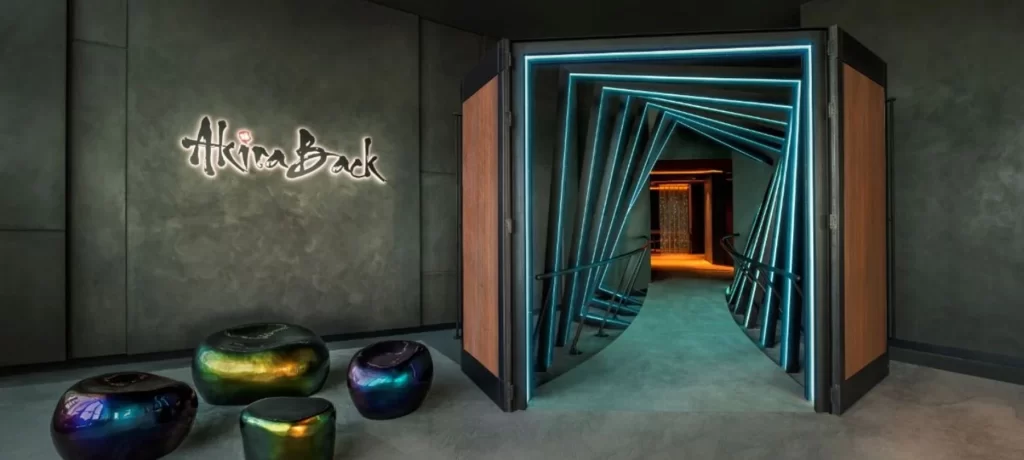 Akira Back Alternative Restaurants
Author: Christopher Tan
Hi there! I'm Christopher Tan, an award-winning writer, cooking instructor, and photographer. My passion lies in combining my love for words, images, and of course, food to create meaningful experiences. I have been honored to have my work published in numerous esteemed publications, including the Sunday Times and Straits Times in Singapore, Saveur magazine in America, and The Peak magazine.
I have expressed my love for food through the written word by authoring and co-authoring multiple cookbooks, including Chinese Heritage Cooking, Ask The Foodie and NerdBaker. I am thrilled to inspire others to create their own meaningful experiences through food, through my writing and teachings. I write restaurant menus and review on eatzeely.com