Fat Cow Menu Singapore 2023
Fat Cow restaurant in Singapore, want to know Latest Fat Cow Menu 2023 with prices. They have an array of delicious and inspiring options that will leave you satisfied and ready to take on the rest of your day. With such a huge selection of dishes at Fat Cow Singapore Menu, how do you know what to order? Don't worry—they've got you covered. They've broken down their menu into sections based on what kind of mood you're in: Whether you're looking for something light or something thick and hearty, they've got what you need.
Fat Cow wanted to share their passion with you and create an environment where you could relax and enjoy a great meal with friends and those you love. When you're looking for a casual evening with friends, or a delicious meal to take home, Fat Cow Singapore is the place to be. One of the best things about this Fat Cow SG is that it is open from morning till late at night, so you can visit them anytime during the day or night if you want to have some good food cooked by professional chefs who know how to prepare delicious dishes using fresh ingredients.
Fat Cow Menu 2023 With Prices List
Below you will find the latest Lists of Fat Cow Menu 2023 Singapore with prices. Fat Cow Menu & prices are sourced directly from Fat Cow Singapore outlets.
Menu
Price
SET LUNCH
TRUFFLE TAMAGO SANDWICH
Japanese-style egg omelette stuffed with truffle paste, toasted brioche
S$32.00
WAGYU STEW
Slow-cooked wagyu in sake and mirin
S$45.00
GINDARA MISO YAKI
Saikyo miso-marinated cod
S$48.00
TORIYAMA A4 TENDERLION WAGYU CURRY
Pan seared toriyama A4 tenderloin with sauteed shimeji mushroom and
house-made Japanese curry
S$48.00
FAT FOA_GURA DON
Glazed foie gras and wagyu over steamed rice
S$55.00
SASHIMI MORIAWASE
Chef s choice of premium sashimi
S$55.00
THE FAT COW DONBURI
Charcoal grilled wagyu with onsen egg, truffle oil and alfafa over seasoned
rice
S$55.00
HOKKAI CHIRASHI ZUSHI
Chef s choice of the days finest seafood over sushi rice
S$58.00
NEGITORO DONBURI
Negitoro, uni, caviar, ikura atop Japanese sushi rice
S$68.00
TOKUJON DONBURI
Prawn tempura, unagi, salmon mentai, wagyu, foie gras, served with a
housemade sauce over suchi rice
S$68.00
THE FAT COW SANDWICH
Toasted brioche, toriyama A4 tenderloin
S$88.00
KOBUJIME PREMIUM WAGYU DONBURI
Konbu cured miyazaki A4 wagyu, caviar, chives, Japanese leek, egg yolk atop
Japanese sushi rice
S$128.00
MIYAZAKI A4 WAGYU PREMIUM DONBURI
Sliced miyazaki A4 wagyu steak on fat rice topped with ikura, foie gras,
onsen egg, truffle shoyu
S$128.00
DESSERT
ARTISAN ICE_CREAM
Artisan ice cream in traditional Japanese flavours: yuzu, green tea, momo,
black sesame
S$8.00
MIZU SHINGEN MOCHI
Housemade water raindrop mochi, roasted soy bean flour
S$12.00
MATCHA LAVA CAKE
Artisan matcha lava cake with black sesame ice cream
S$18.00
HOUSEMADE YUZU CHEESECAKE
Fresh shredded yuzu, cream cheese
S$22.00
SEASONAL FRUIT
Please ask your server for weekly cargo fruit from Japan
S$28.00
UMESHU LEMON & GINGER (20ML)
Spicy and sweet yet subtle, refreshing, clear and very easy to drink
S$12.00
WAKATSURU SUNSHINE ZOYO
S$58.00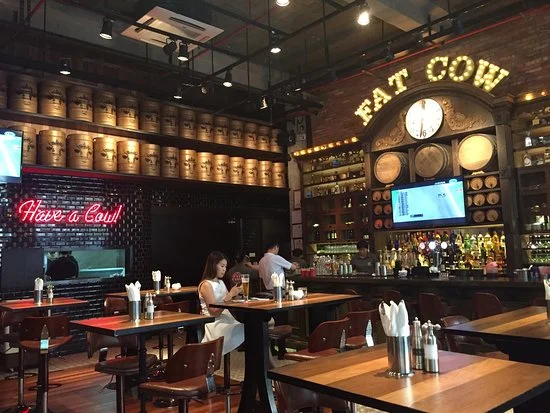 Fat Cow Alternative Restaurants
Author: Christopher Tan
Hi there! I'm Christopher Tan, an award-winning writer, cooking instructor, and photographer. My passion lies in combining my love for words, images, and of course, food to create meaningful experiences. I have been honored to have my work published in numerous esteemed publications, including the Sunday Times and Straits Times in Singapore, Saveur magazine in America, and The Peak magazine.
I have expressed my love for food through the written word by authoring and co-authoring multiple cookbooks, including Chinese Heritage Cooking, Ask The Foodie and NerdBaker. I am thrilled to inspire others to create their own meaningful experiences through food, through my writing and teachings. I write restaurant menus and review on eatzeely.com