Acqua e Farina Menu Singapore 2023
If you are planning to visit Acqua e Farina restaurant in Singapore, then you should check out this page for the Latest Acqua e Farina Menu 2023 with prices. They have an array of delicious and inspiring options that will leave you satisfied and ready to take on the rest of your day. With such a huge selection of dishes at Acqua e Farina Singapore Menu, how do you know what to order? Don't worry—they've got you covered. They've broken down their menu into sections based on what kind of mood you're in: Whether you're looking for something light or something thick and hearty, they've got what you need.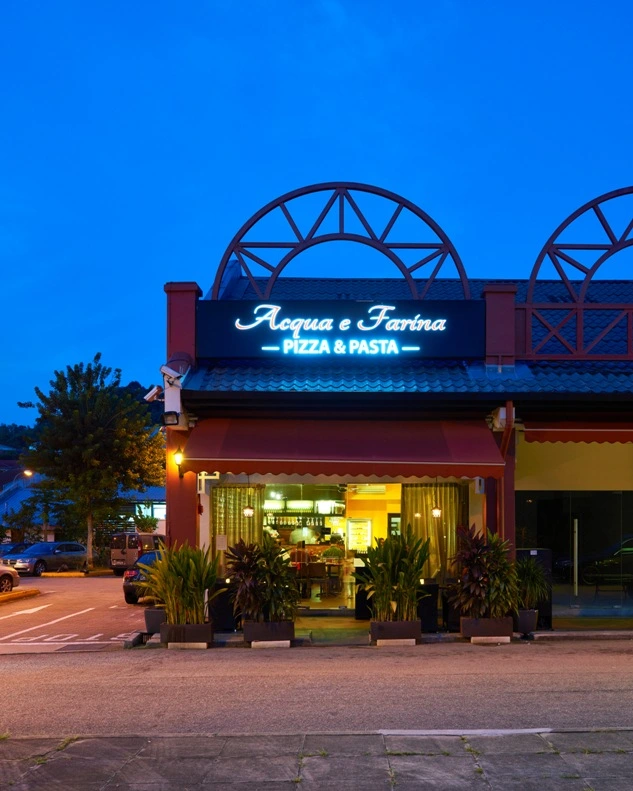 Acqua e Farina wanted to share their passion with you and create an environment where you could relax and enjoy a great meal with friends and those you love. When you're looking for a casual evening with friends, or a delicious meal to take home, Acqua e Farina Singapore is the place to be. One of the best things about this Acqua e Farina SG is that it is open from morning till late at night, so you can visit them anytime during the day or night if you want to have some good food cooked by professional chefs who know how to prepare delicious dishes using fresh ingredients.
Acqua e Farina Menu Singapore 2023 with priecs
Below you will find the latest Lists of Acqua e Farina Menu 2023 Singapore with prices. Acqua e Farina Menu & prices are sourced directly from Acqua e Farina Singapore outlets.
I Nostri Antipasti Caldi
Zuppa del Giorno
Soup of the Day
S$17.00
Melanzane alla Parmigiana
Oven baked Eggplants slices layered with Mozzarella, Tomato Sauce, Parmesan
Cheese and Basil
S$27.00
Gamberetti con Pancetta e Spinaci
Pan-fried Shrimps wrapped with Italian Bacon served with sautéed Spinach
S$27.00
Capesante con Funghi
Scallops gently pan fried, served with Mushrooms Sauce and Baby Spinach
S$28.00
Sauté di Vongole
Live Clams tossed with Garlic, White Wine, Cherry Tomatoes and Herbs
S$28.00
Calamari Italiani Fritti
Deep-fried Italian Calamari Rings served with Spicy Tomato Sauce
S$32.00
I Nostri Antipasti Freddi
Insalata al Caprino Caldo
Mixed Greens with Walnuts, Sundried Tomato, Honey and Balsamic Vinegar
Dressing served with Warm Goat Cheese on Bread
S$25.00
Burratina con Parma
Fresh Burratina Cheese served with Cherry Tomatoes and Parma Ham
S$34.80
Caprese
Fresh Buffalo Mozzarella with Fresh Tomato and Basil
S$27.00
Prosciutto di Parma e Mortadella (2 persons)
Italian Cold Cuts: Parma Ham "cured 24 months" and Pork Mortadella
S$36.00
Prosciutto di Parma, Mortadella e Bufala (3-4 persons)
Italian Cold Cuts: Parma Ham "cured 24 months" , Pork Mortadella, and
Buffalo Mozzarella with Cherry Tomatoes
S$46.00
Le Nostre Paste
Fettuccine Nere alla Polpa di Granchio
Homemade Squid Ink Pasta with Crabmeat tossed in Tomato Sauce with a touch
of Cream
S$33.00
Tagliatelle alla Boscaiola
Homemade Pasta with Mushrooms, Italian Sausage and Bacon tossed in Tomato
Sauce with a touch of Cream
S$32.00
Ravioli di Ricotta e Spinaci al Burro e Salvia
Homemade Ravioli stuffed with Ricotta Cheese and Spinach tossed with
Butter, Parmesan Cheese and Sage
S$32.00
Linguine alle Vongole
Linguini with Live Clams tossed in White Wine with Cherry Tomatoes, Garlic,
Herbs and Olive Oil
S$31.00
Spaghetti ai Gamberi
Spaghetti with Prawns "Aglio, Olio e Peperoncino" Garlic, Olive Oil and
Chillies
S$32.00
Risotto allo Zafferano e Salsiccia
Risotto with Saffron topped with Pork Sausage
S$34.00
Risotto ai Funghi
Risotto with Porcini and Portobello Mushrooms
S$34.00
Le Nostre Pizze
Pizza Margherita
Tomato and Mozzarella
S$28.00
Pizza Hawaiiana
Tomato, Mozzarella, Cooked Ham and Pineapple
S$30.00
Pizza Napoletana (Salty)
Tomato, Mozzarella, Capers, Anchovies and Oregano
S$30.00
Pizza Diavola
Tomato, Mozzarella, Pork Salami and Chillies
S$32.00
Pizza Rucola e Parma
Tomato, Mozzarella, Parma Ham, Arugula and Shaved Parmesan Cheese
S$33.00
Pizza Burrata
Tomato, Mozzarella, Burrata Cheese and spicy Salam
S$34.00
Pizza Acqua e Farina
Tomato, Mozzarella, Ricotta Cheese, Salami and Sautéed Spinach
S$33.00
Pizza Capricciosa
Tomato, Mozzarella, Olives, Artichoke, Cooked Ham and Mushrooms
S$32.00
Pizza Prosciutto e Funghi
Tomato, Mozzarella, Cooked Ham and Mushrooms
S$31.00
Pizza Ortolana
Tomato, Mozzarella and mixed Vegetables
S$30.00
Pizza Bufala
Tomato, Mozzarella and Buffalo Mozzarella
S$32.00
Pizza Quattro Formaggi
Pizza with Four Cheeses: Mozzarella, Gorgonzola (Blue Cheese), Smoked
Scamorza and Asiago
S$33.00
Pizza Tartufo
Pizza with Mascarpone , Mozzarella, Mushrooms and Black Truffle
S$34.00
I Nostri Calzoni
Calzone Ortolana
Folded Pizza with Mozzarella and Vegetables
S$30.00
Calzone Prosciutto e Funghi
Folded Pizza with Mozzarella, cooked Ham and Mushrooms
S$31.00
Calzone Napoletana
Folded Pizza with Mozzarella, Ricotta Cheese and Pork Salami
S$32.00
Le Nostre Barche Siciliane
Barca Bufala
Sicilian Boat with Tomato, Buffalo Mozzarella and Parma Ham
S$33.00
Barca Salsiccia
Sicilian Boat with Tomato, Mozzarella, homemade Pork Sausages and Mushrooms
S$33.00
Desserts
Dessert Platter
A dessert platter comprising mini portions of Crème Brûlée, Lava Cake,
Panna Cotta and Tiramisù
S$19.00
Panna Cotta
Cream and Milk Pudding topped with Berry Sauce
S$15.00
Affogato al Caffe
Vanilla Ice Cream with Espresso Coffee
S$13.00
Gelati (Ice Cream) e Sorbetto (Sorbet)
Gelati (Ice Cream) e Sorbetto (Sorbet)
S$10.00
Cheese Platter
Combination of Cow Cheese, Sheep Cheese and Goat Cheese served with
homemade Capsicum Jam and Bread
S$31.00
Tortino Caldo con Gelato alla Vaniglia (10 minutes cooking time)
Hot Chocolate Lava Cake, served with a scoop of Vanilla Ice Cream
S$17.00
Tiramisù
Our Classic Tiramisu
S$15.00
Crema Caramellata
Crème Brûlée: Vanilla Custard topped with a layer of crispy Caramel
S$15.00
Acqua e Farina Alternative Restaurants
Author: Christopher Tan
Hi there! I'm Christopher Tan, an award-winning writer, cooking instructor, and photographer. My passion lies in combining my love for words, images, and of course, food to create meaningful experiences. I have been honored to have my work published in numerous esteemed publications, including the Sunday Times and Straits Times in Singapore, Saveur magazine in America, and The Peak magazine.
I have expressed my love for food through the written word by authoring and co-authoring multiple cookbooks, including Chinese Heritage Cooking, Ask The Foodie and NerdBaker. I am thrilled to inspire others to create their own meaningful experiences through food, through my writing and teachings. I write restaurant menus and review on eatzeely.com