This modern pizzeria serves fusion pizza with tons of unique flavors based on local cuisine. DePizza has flavors like nasi lemak, spicy crab, and even sushi pizza. It's located along Boat Quay, and is a great place to dine and enjoy the relaxing atmosphere. Their pizzas are 1 for 1 when you use ShopBack GO coupons, so it's a great opportunity to try several of their unique flavors at once. The two we got were the Hei Hu Hei Hu Pizza
Nasi lemak pizza may seem like too strange a combination to try, but DePizza seems to have done the impossible. Their Lemak No Nasi pizza ($24) comes with all the toppings: fried chicken, fried egg bits, cheese, fresh cucumber bits, ikan bilis, and DePizza's house-made sambal pasta. With pandan-infused dough and coconut cream, the mix of flavors works just as well as the original. DePizza's sambal is as good as it gets, but you can also request a milder level of spice.
DePizza Review
I don't care what anyone else says, the pizza is delicious and pineapples must be on pizzas. That said, as much as I love Hawaiian pizza, I would never miss an opportunity to try a new topping. So when I heard about DePizza and their nasi lemak pizza, I didn't waste a second.
With the creation of the Nasi Lemak Burger and Nasi Lemak Curry Puff, I wasn't surprised to discover that one of DePizza's signature dishes is their Nasi Lemak Pizza ($24+). With homemade sambal spread on a crust made with coconut cream, this pizza was topped with cheese and typical nasi lemak toppings like ikan bile, cucumber, fried egg bits, and chicken.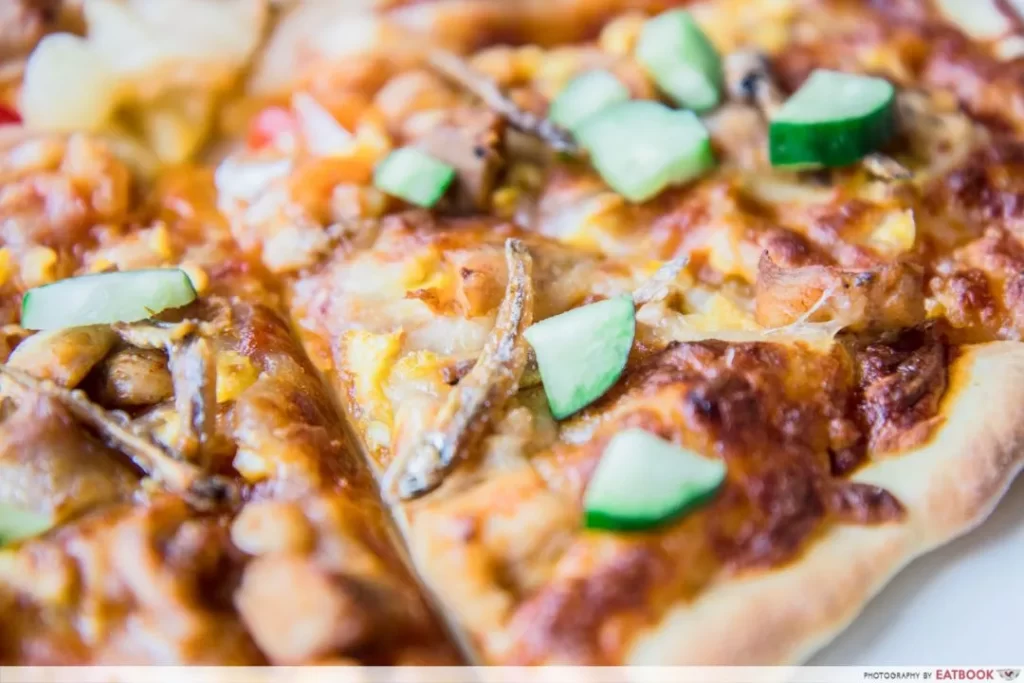 I was pleasantly surprised by the explosion of flavors at the first bite. The punch of the fiery sambal was complemented by the coconut fragrance of the rind. I would have liked it more if the sambal had a slight sweetness. The cucumbers and ikan bile fell off quite easily, which made eating it a mess.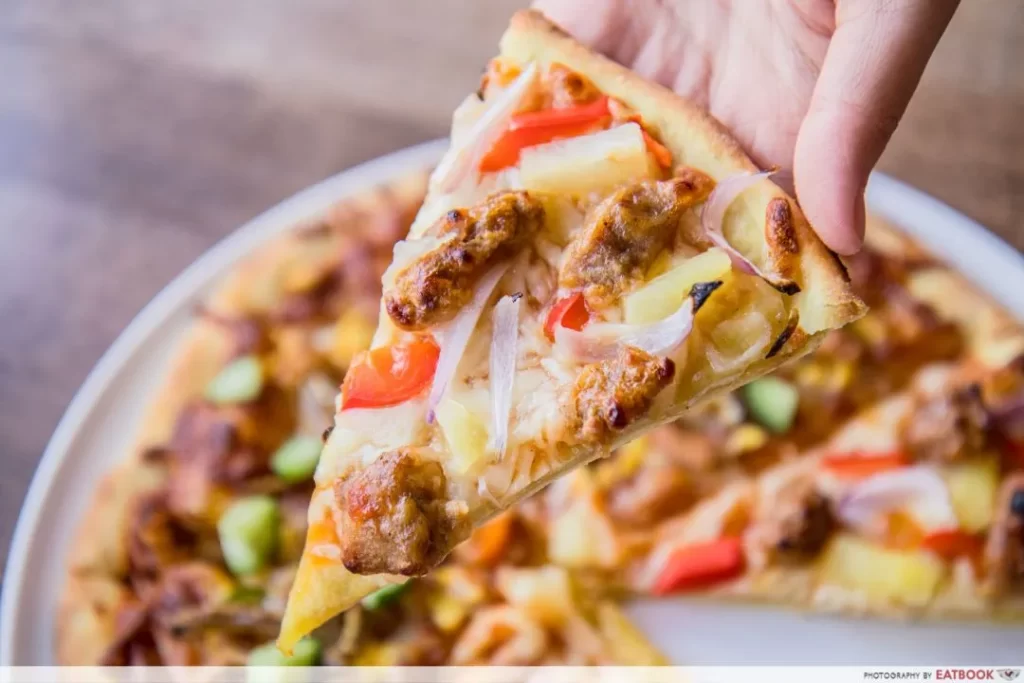 The bright colors on their Gu Lou Yok Pizza ($22+) caught my eye. The Asian version of a classic Hawaiian pizza, this pizza was topped with DePizza's signature sweet and sour sauce and then topped with juicy pork chunks.
While the concept of this pizza is interesting, the execution was still lacking. Each ingredient tasted good on its own; the meat was juicy and slightly crispy on the outside, while the sauce was a nice combination of sweetness and tartness. However, the plate was missing a oomph factor that would tie them all together.

The homemade sauces that were offered lacked depth. Being the garlic lover that I am, I went straight for their garlic mayonnaise. Unfortunately, it tasted more like butter than garlic. But putting aside the fact that it was supposed to be garlic mayonnaise, it was a good sauce. The disappointing sambal sauce falls short of the sweet, spicy and salty combination that a good sambal should have.
Found just above FatBoy's, DePizza has an amazing view of the Singapore River. So remember to go early to cut out the window seats as it gets very crowded during lunch and dinner. The wooden tables and chairs, together with the aesthetic lamps, give a cozy air to this small restaurant. Too bad we didn't get to try their Chilli Crab Pizza ($26+) made with king crab meat and mantou crust, which is a crowd favorite.
Depizza Alternative Restaurants
Author: Christopher Tan
Hi there! I'm Christopher Tan, an award-winning writer, cooking instructor, and photographer. My passion lies in combining my love for words, images, and of course, food to create meaningful experiences. I have been honored to have my work published in numerous esteemed publications, including the Sunday Times and Straits Times in Singapore, Saveur magazine in America, and The Peak magazine.
I have expressed my love for food through the written word by authoring and co-authoring multiple cookbooks, including Chinese Heritage Cooking, Ask The Foodie and NerdBaker. I am thrilled to inspire others to create their own meaningful experiences through food, through my writing and teachings. I write restaurant menus and review on eatzeely.com