Sushi Zanmai Menu Price Malaysia 2023
Hello Sushi Zanmai lovers, are you looking for the latest Sushi Zanmai Menu? You have arrived at the right place then. We have uploaded their complete menu with pictures & updated prices. Below you will find the latest Lists of Sushi Zanmai Menu 2023 Malaysia with prices.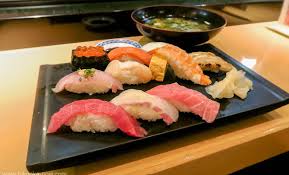 Sushi Zanmai Menu Malaysia 2023 With Prices List
EDAMAME, TATAMI IWASHI, GYOZA, YUDOFU, TEBA GYOZA RESH GARDEN SALAD, SOBA SALAD, POTATO SALAD, ONION SALAD WITH GOMA, AVOCADO SALAD EBITEN TEMAKI, CALIFORNIA TEMAKI, NATTO TEMAKI, SHAKE KAWA TEMAKI Grilled Salmon Skin Hand Roll CALIFORNIA MAKI, DRAGON ROLL, SHAKE KAWA MAKI, SPIDER ROLL, UNAGI MAKI, HAWAIIAN ROLL SHAKE, MAGURO, WHITE TUNA, AMAEBI, TAKO.
Menu
Price
Appetizers
EDAMAME
Boiled Soya Bean
RM13.00
TATAMI IWASHI
Grilled Baby Sardine
RM22.00
GYOZA
Pan Fried Chicken Dumpling
RM21.00
YUDOFU
Bean Curd and Vegetables In Hot Broth
RM17.00
TEBA GYOZA
Grilled Stuffed Chicken Wing
RM24.00
CHUKA KURAGE
Marinated Jellyfish
RM13.00
MOROKYU
Fresh Kyuri with Barley Beans
RM11.00
IDAKO
Seasoned Baby Octopus
RM16.00
MAGURO YAMAKAME
Fresh Tuna with Grated Yam
RM27.00
Salads
FRESH GARDEN SALAD
Fresh Assorted Salad
RM13.00
SOBA SALAD
Fresh Salad with Soba Noodle
RM21.00
POTATO SALAD
Minced Potato vith Vegetable
RM17.00
ONION SALAD WITH GOMA
Fresh Assorted Salad and Onion with Sesame Dressing
RM19.00
AVOCADO SALAD
Fresh Avocado Salad
RM19.00
TOFU SALAD
Tofu with Green Salad
RM19.00
KAISOU SALAD
Seaweed Salad
RM23.00
Temaki Sushi
EBITEN TEMAKI
Prawn Tempura Hand Roll
RM16.00
CALIFORNIA TEMAKI
California Style Hand Roll
RM11.00
NATTO TEMAKI
Chopped Fermented Soya Beans Hand Roll
RM13.00
SHAKE KAWA TEMAKI
Grilled Salmon Skin Hand Roll
RM14.00
SOFT CRAB TEMAKI
Grilled Eel Reversed Style Roll
RM14.00
UNAGI TEMAKI
Grilled Eel Hand Roll
RM17.00
NEGITORO TEMAKI
Chopped Tuna Belly with Spring Onion Hand Roll
RM27.00
Maki Sushi
CALIFORNIA MAKI
California Style Reversed Roll
RM24.00
DRAGON ROLL
Grilled Unagi Wrapped with Avocado Roll
RM42.00
SHAKE KAWA MAKI
Grilled Salmon Skin Reversed Roll
RM30.00
SPIDER ROLL
Deep Fried Soft Shell Crab Roll
RM32.00
UNAGI MAKI
Grilled Eel Reversed Style Roll
RM40.00
HAWAIIAN ROLL
Fried Prawn Wrapped with Mango
RM40.00
MALAYSIAN ROLL
Unagi and Mango Reverse Roll
RM42.00
REVERSE FUTO MAKI
Reverse Jumbo Roll
RM28.00
Sashimi / Sushi
SHAKE
Fresh Salmon
RM38.00
MAGURO
Fresh Tuna
RM49.00
WHITE TUNA
Fresh Butter Fish
RM42.00
AMAEBI
Fresh Sweet Shrimp
RM40.00
TAKO
Octopus
RM46.00
SHIMA AJI
Stripped Jack
RM61.00
HAMACHI
Yellow Tail
RM55.00
BOTAN EBI
Jumbo Shrimp
RM66.00
Soup
DOBIN MUSHI
Tea Pot Clear Soup
RM30.00
CHAWAN MUSHI
Steamed Egg Custard
RM16.00
3 TASTE MINI CHAWAN MUSHI
Uni, Tobikko and Caviar in Egg Shell Chawan Mushi
RM22.00
ASARI MISOSHIRU
Miso Soup with Clams
RM21.00
KINOKO CHAWAN MUSHI
Mushroom Steamed Egg Custard
RM19.00
AKADASHI
Dark Miso Soup
RM17.00
Nimono / Mushimono
HAMACHI ATAMA NITSUKE
Yellow Tail Fish Headed Simmered in Special Sauce
RM146.00
SAKANA NITSUKE
Simmered Cod Fish with Tofu and Vegetable in Sweet Soya Sauce
RM76.00
SABA MISONI
Simmered Mackerel with Miso Sauce
RM45.00
FURUFUKI DAIKON
Simmered Raddish with Minced Chicken
RM45.00
NIKU TOFU
Tofu and Beef in Special Sauce
RM40.00
Desserts
MACHA ICE CREAM
Green Tea Ice Cream
RM14.00
MACHA OGURA
Green Tea Ice Cream with Red Bean
RM17.00
MOMO ICE CREAM
Peach Ice Cream
RM17.00
ICE CREAM PANCAKE
Ice Cream Pancake
RM19.00
FRUIT PANCAKE
Fruit Pancake
RM18.00
STRAWBERRY PARFAIT
Strawberry Ice Cream Tower
RM21.00
MANGO PARFAIT
Mango Ice Cream Tower
RM21.00
ZENZAI
Grilled Rice Cake with Red Bean
RM14.00
MANGO
Fresh Sliced Mango
RM19.00
Sushi ZanmaiAlternative Restaurants
Who owns Sushi Zanmai?
Kiyoshi Kimura is the owner of Sushi Zanmai.
What Sushi Zanmai is certified halal?
No Sushi Zanmai is not certified halal.
Why is sushi not halal?
Sushi could haram because Sushi uses alcohol called mirin to cook the rice, alcohol is haram according to Islamic dietary law.
How many outlets have Sushi Zanmai?
Sushi Zanmai has more than 50 outlets all over the world.
Author: Alia Izzati
Alia Izzati is an experienced food critic and writer based in Malaysia. She is the author of several popular articles on the websites klfoodie.com and eatzeely.com, where she covers a wide range of topics related to restaurants and their menus. With a keen palate and a passion for exploring the culinary landscape of her home country, Alia is known for her thoughtful and in-depth reviews of the latest dining trends and hotspots. Whether you're looking for the best new places to eat in Malaysia or just want to stay up-to-date on the latest food news, Alia's articles are a must-read for anyone with an interest in the culinary arts.