Real Food Menu Singapore 2023
If you are planning to visit Real Food restaurant in Singapore, then you should check out this page for the Latest Real Food Menu 2023 with prices. They have an array of delicious and inspiring options that will leave you satisfied and ready to take on the rest of your day. With such a huge selection of dishes at Real Food Singapore Menu, how do you know what to order? Don't worry—they've got you covered. They've broken down their menu into sections based on what kind of mood you're in: Whether you're looking for something light or something thick and hearty, they've got what you need.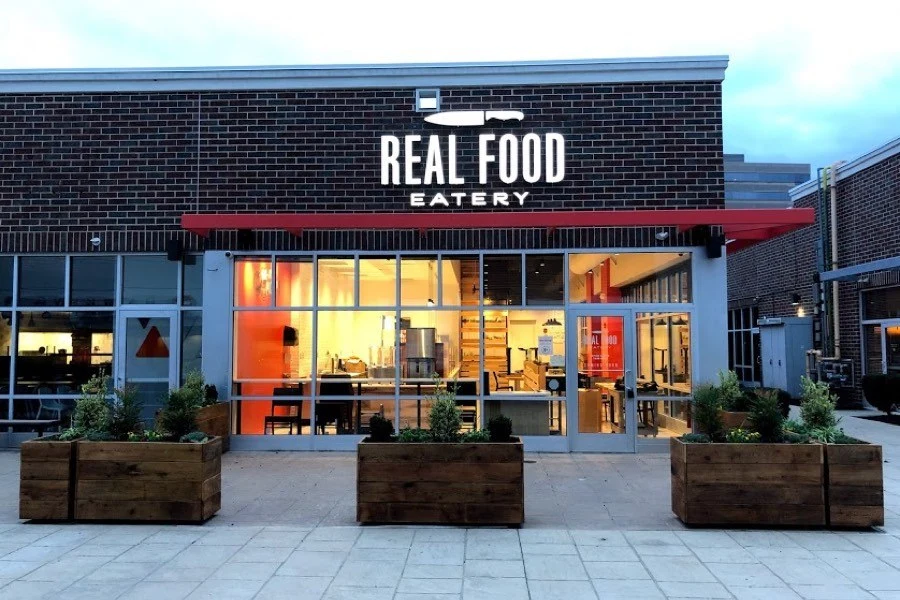 Real Food wanted to share their passion with you and create an environment where you could relax and enjoy a great meal with friends and those you love. When you're looking for a casual evening with friends, or a delicious meal to take home, Real Food Singapore is the place to be. One of the best things about this Real Food SG is that it is open from morning till late at night, so you can visit them anytime during the day or night if you want to have some good food cooked by professional chefs who know how to prepare delicious dishes using fresh ingredients.
Real Food Menu Singapore 2023 wit priecs
Below you will find the latest Lists of Real Food Menu 2023 Singapore with prices. Real Food Menu & prices are sourced directly from Real Food Singapore outlets.
All Day Breakfast
B1. Sweet Pumpkin Pancakes
Sweet pancakes made with mashed organic pumpkin, coconut oil and
gluten-free self-raising flour. Served with fresh seasonal fruits and berry
coulis on the side.
S$11.80
B2. Veggie Omelette
Omelette with assorted vegetables, pineapple and mushrooms. Served with
gluten-free cheese toast and fresh greens.
S$12.80
B3. Fried Pumpkin Carrot Cake
Steamed cakes made from grated pumpkin, carrots and rice flour pan-fried
with eggs, spring onions and garlic.
S$9.80
B4. Scrambled Tofu with Broccoli
Stir-fried tofu with turmeric, cherry tomatoes and broccoli on a
gluten-free sourdough toast.
S$9.80
B5. Guacamole
A selection of sourdough toast with homemade guacamole made fresh with
avocadoes, tomatoes, onions, jalapeños, coriander and lime juice.
S$10.80
B6. GF English Muffin with Scrambled Eggs
Gluten-free sourdough English muffin with sautéed spinach, mushrooms and
scrambled eggs. Served with homemade tropical fruit jam and butter.
S$12.80
B7. Sourdough Toast
S$2.50
Salads
SL1. Real Food Mix
Fresh greens with olives, boiled chickpeas, cherry tomatoes, avocado and
sun-dried tomatoes. Topped with roasted tamari almonds, sourdough croutons
and nutritional yeast. Dressed in a balsamic-based vinaigrette.
S$10.80
SL2. Keto
Whole avocado, baked cheddar cheese, feta cheese, olives, lots of raw
greens dressed with lemon butter sauce and olive oil. Topped with
nutritional yeast and a dollop of almond butter.
S$14.80
SL3. Egg and Potato
Pan-fried potatoes with fresh greens, olives, cherry tomatoes and a
soft-boiled egg. Topped with feta cheese, sourdough croutons and roasted
almonds. Served with a honey mustard dressing.
S$12.80
SL4. Stuffed Veggie
Grilled capsicum stuffgsed with a homemade patty made with grated beetroot,
carrots, potatoes, onions and millet. Served with fresh greens, olives,
lemon slices, cherry tomatoes, avocado and balsamic dressing.
S$13.80
SL5. Chickpea and Sweet Potato Cake
Cakes made from mashed organic chickpeas, sweet potatoes, cumin seeds,
fresh coriander and curry powder. Served with fresh greens, grilled
asparagus, French beans and capsicum. Drizzled with vegan mayonnaise and
olive oil.
S$14.80
Snacks and Sides
SN1. Fried Spring Rolls (2pcs)
Traditional handmade roll of carrots, mushrooms, turnips, black fungus and
bean curd, deep-fried.
S$6.00
SN2. Fried/Steamed Dumplings (8pcs)
Our signature dumplings in a golden crisp or freshly steamed and drizzled
with organic sesame oil and tamari
S$10.80
SN3. Fruit Rojak
Fresh fruits and root vegetables in a homemade sweet and sour plum sauce
with roasted peanuts
S$8.00
SN4. Balsamic Beancurd
Fried bean curd, fresh onions, garlic, cucumber, cherry tomatoes, olives
and coriander tossed in a balsamic vinegar sauce.
S$8.80
SN5. Organic Potato Wedges
Fried organic potato and sweet potato wedges. Seasoned with mixed herbs,
salt and pepper.
S$8.50
SN6. Baked Stuffed Portobello Mushroom with Cheese
Portobello mushroom stuffed with minced vegetables and covered with cheddar
cheese. Served with fresh greens, potato salad and vegan mayonnaise.
S$14.80
Soups
S1. Kombu Shiitake
A nutritious soup made with shiitake mushrooms and Kombu, an excellent
source of iodine. Includes leafy vegetables and tofu.
S$9.50
S2. Dumpling
Our dumplings are handmade with much time and effort. No less than 10
ingredients are used, including carrots, mushrooms, bean curd, french
beans, celery and turnips.
S$10.80
S3. Tom Yum
This piquant soup is made from a fine blend of fresh herbs and spices.
Served with tofu, mushrooms, aubergines, tomatoes and pineapple.
S$10.80
S4. Miso
Probiotic goodness. Handmade in the small town of Fukui, Japan, this
traditional favourite uses only high quality organic ingredients which are
fermented naturally in wooden barrels for over 10 months. Served with tofu,
shimeji and enoki mushrooms, spring onions and wakame.
S$12.00
S5. Onion and Leek
Caramelised onions and leeks infused with thyme and slow cooked with
vegetable stock. Served with a generous portion of sourdough cheese toast.
S$10.80
S6. Umami Mushroom
Made with white button mushrooms, potatoes, celery and butter. Served with
cheese toast, a drizzle of olive oil and dried shiitake mushroom powder.
S$11.80
Rice
R1. Fried Brown Rice
Organic brown rice stir-fried with french beans, carrots, capsicum, corn
kernels and pineapple.
S$9.80
R2. Baked Brown Rice
Brown rice, mushrooms, tomatoes, corn kernels, coriander and cheddar cheese
baked in a special homemade vegetable and tomato sauce.
S$14.80
R3. Mushroom and Turmeric 'Risotto'
Mushrooms, capsicum, corn kernels, coriander and brown rice simmered in a
kombu broth with soy milk and turmeric.
S$12.80
R4. Organic 'Belachan' Fried Rice
Handmade belachan made from naturally-dried and fermented organic soy.
Stir-fried with brown rice, carrots, shimeji mushrooms, purple cabbage and
corn kernels.
S$10.80
Noodles
N1. Egg Fried Noodles
Organic noodles stir-fried with oyster mushrooms, bak-choy, bean sprouts,
spring onions, ginger, tomatoes, shredded carrots, eggs and chili paste.
S$9.80
N2. Fried Vermicelli
Gluten-free organic brown rice vermicelli stir-fried with assorted
vegetables, mushrooms, organic tamari and toasted sesame oil.
S$9.80
N3. Tom Yum Vermicelli
Brown rice vermicelli, carrots, bak choy and shimeji mushrooms stir-fried
with a homemade tom yum paste. Served with homemade achar.
S$11.80
N3. Mushroom Noodles Dry
Organic noodles with leafy vegetables, braised shiitake mushrooms and
cherry tomatoes.
S$10.80
N4. Dumpling Noodles Dry
Our unique handmade dumplings served with organic noodles, leafy vegetables
and cherry tomatoes.
S$11.80
N5. Curry Noodles
Homemade curry made with organic soy milk and extra virgin coconut oil.
Served with organic noodles and assorted vegetables.
S$14.80
N6. Crispy Noodles
Vegan yee mee noodles, mushrooms and leafy vegetables doused in gravy made
with kudzu powder and tamari. Topped with fried burdock and carrot strips.
S$13.80
Burgers
SW1. Beet Millet
Handmade patty made with beetroot, carrots, onions, millet and potatoes.
Stacked with onions, tomatoes, avocado, fresh greens, and homemade tomato
sauce.
S$14.80
SW2. Portobello
Herb battered portobello mushroom stacked with fresh greens and vegan
mayonnaise.
S$14.80
SW3. Lentil Quinoa Croquette
Handmade patty made with Himalayan lentils, potatoes, roasted walnuts,
quinoa and sautéed mushrooms. Stacked with fresh greens and tomatoes,
homemade tomato sauce and vegan mayonnaise.
S$16.80
SW4. Cheesy Miso Tofu
Miso, tofu, walnuts and broccoli made into a patty and pan-fried with
rosemary and mozzarella cheese. Stacked with homemade pesto sauce, rocket
and alfafa sprouts.
S$16.80
SW5. Curried Black Bean
Patty made with sprouted black beans, potatoes, rolled oats and a spice
mix. Pan-fried and served with guacamole, onions, tomatoes, jalapeños and
baby spinach.
S$14.80
Pastas
P1. Mushroom and Celery Tomato Penne
Whole wheat penne, sautéed mushrooms and celery in homemade tomato sauce.
Topped with shaved cheddar cheese.
S$14.80
P2. Mushroom Aglio Olio
Pasta tossed with fresh garlic, oregano, basil, parsley and sautéed
mushrooms.
S$10.80
P3. Pomodoro Crudo
Fresh cherry tomatoes, sun-dried tomatoes, garlic, olives, herbs and a
pinch of chilli powder. Topped with vegan parmesan cheese.
S$13.80
P4. Genovese Pesto
Homemade pesto, grilled cucumber, olives and crumbled boiled potatoes.
Topped with feta cheese and fresh basil leaves.
S$13.80
P5. Vegetable Balls
Assorted beet and chickpea veggie balls served with pasta tossed in
homemade tomato sauce.
S$14.80
P6. Baked Penne
Whole wheat penne, aubergines, onions, spinach, coriander and cheddar
cheese baked in a special homemade vegetable and tomato sauce.
S$15.50
P7. Mushroom Soy Carbonara
Assorted mushrooms in a vegan white cream sauce. Flavoured with herbs and
topped with nutritional yeast for a cheesy texture.
S$14.80
Pizza
PZ1. Margherita
Mozzarella cheese, tomato puree, fresh basil leaves, extra virgin olive
oil, dried herbs and spices.
S$15.80
PZ2. Mushroom
Cheddar cheese, vegan 'parmesan', assorted wild mushrooms, extra virgin
olive oil, dried herbs and spices.
S$16.80
PZ3. Patate
Vegan 'parmesan', sliced organic potatoes, fresh rosemary, fresh lemon
juice, extra virgin olive oil.
S$15.80
PZ4. Roasted Peppers
Vegan 'parmesan', tomato puree, organic peppers, oyster mushrooms, extra
virgin olive oil, basil leaves, dried herbs and spices.
S$16.80
PZ5. Pesto
Pesto sauce, olives, feta cheese, grated parmesan cheese, fresh rocket,
fresh basil leaves, extra virgin olive oil.
S$18.80
PZ6. Pomodoro
Roasted cherry tomatoes, sun-dried tomatoes, grated parmesan cheese, fresh
basil leaves, extra virgin olive oil, dried herbs and spices.
S$16.80
PZ7. Broccoli
Yogurt, cheddar cheese, grated parmesan cheese, broccoli, extra virgin
olive oil.
S$18.80
PZ8. Tom Yum
Homemade tom yum paste, fresh capsicum cubes, fresh pineapple cubes,
shimeji mushrooms, nutritional yeast.
S$18.80
Beverages
CF1. Espresso
S$4.00
CF2. Cappuccino
S$6.50
CF3. Hot/Iced Latte
S$6.50
CF4. Flat White
S$6.50
CF5. Long Black
S$4.50
CF6. Iced Coffee
S$5.00
CF7. Hot/Iced Mocha
S$7.50
CF8. Hot Chocolate
S$7.50
CF9. Matcha Latte
S$7.50
CF10. Hot Carob
S$7.50
Real Food Alternative Restaurants
Author: Christopher Tan
Hi there! I'm Christopher Tan, an award-winning writer, cooking instructor, and photographer. My passion lies in combining my love for words, images, and of course, food to create meaningful experiences. I have been honored to have my work published in numerous esteemed publications, including the Sunday Times and Straits Times in Singapore, Saveur magazine in America, and The Peak magazine.
I have expressed my love for food through the written word by authoring and co-authoring multiple cookbooks, including Chinese Heritage Cooking, Ask The Foodie and NerdBaker. I am thrilled to inspire others to create their own meaningful experiences through food, through my writing and teachings. I write restaurant menus and review on eatzeely.com