Vanilla Mille Crepe Menu price 2023 Malaysia
Hello Vanilla Mille Crepe lovers, are you looking for the latest Vanilla Mille Crepe Menu? You have arrived at the right place then. We have uploaded their complete menu with pictures & updated prices. Below you will find the latest Lists Vanilla Mille Crepe Menu 2023 Malaysia with prices.
Vanilla Mille Crepe Menu Malaysia 2023 With Prices List
Popular
| | |
| --- | --- |
| Tiramisu Affair Slice | RM 18 |
| V Paris Slice | RM 18 |
| Hey Matcha Slice | RM 18 |
Classic Slice
If you're a dessert lover in Malaysia, you have to check out the Vanilla Mille Crepe menu! Their cakes are absolutely divine, and I was blown away by their selection. Some of my favorites include the Tiramisu Affair Slice, V Paris Slice, and Choco Pick Me Up Slice, all starting from RM 18. For something a bit more tropical, the Mango Lah Slice is a must-try, with its sweet and tangy flavors. The Hey Matcha Slice and Legit Lemon Slice were also incredibly delicious and unique, with their distinct green tea and citrus flavors, respectively. Lastly, the Pandan Lokal Slice, British Earl Grey Slice, and The Ovomaltine Slice are all amazing options for those looking for something a bit more unconventional.
| | |
| --- | --- |
| Tiramisu Affair Slice | RM 18 |
| V Paris Slice | RM 18 |
| Choco Pick Me Up Slice | RM 18 |
| Mango Lah Slice | RM 18 |
| Hey Matcha Slice | RM 18 |
| Legit Lemon Slice | RM 18 |
| Berrylicious Slice | RM 18 |
| Pandan Lokal Slice | RM 18 |
| British Earl Grey Slice | RM 18 |
| The Ovomaltine Slice | RM 18 |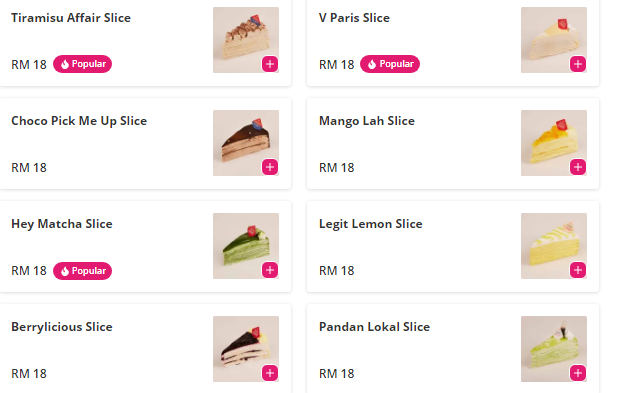 Premium Slice
| | |
| --- | --- |
| Kit Kat Lover Slice | RM 20 |
| Famous Amous Slice | RM 20 |
| Yummy Yam Slice | RM 20 |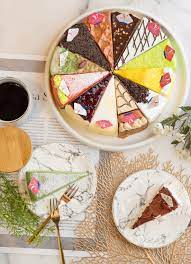 Vanilla Mille Crepe alternative restaurants 
Who is the founder of Vanilla Mille Crepe?
Vanilla Mille Crepe, one of the most popular dessert chains in Malaysia, owes its success to the brilliant mind behind it, Nelson Liew. As the CEO and co-founder, Nelson Liew's journey to success has been nothing short of inspiring. From taking over a small café to building the largest chain of Mille Crepe in Malaysia in just five years, Nelson's hard work, dedication, and entrepreneurial spirit have been the driving force behind Vanilla Mille Crepe's rapid growth and popularity.
How many layers are in Lady M Mille Crepe?
There are at least 20 layers of crêpes in each cake.
How long can Mille Crepe last?
If you're a fan of Mille Crepe cake, you might be wondering how long it can last. Well, the good news is that Mille Crepe cake has a relatively long shelf life. For online orders, Mille Crepe cakes can be stored in the freezer for up to two months.
What are the two types of crêpes?
If you're a fan of crêpes or are new to this delectable French cuisine, you may be wondering about the different types of crêpes available. Essentially, there are two types of crêpes: sweet crêpes (crêpes sucrées) and savoury galettes (crêpes salées). Sweet crêpes are usually served as dessert and can be enjoyed with a range of sweet fillings such as fruit, cheese, spreads, and chocolate.
Are crepes healthy?
Crepes are a delicious and versatile dish that's enjoyed by people all over the world. If you're someone who's conscious about your health, you might be wondering if crepes are a healthy choice. The good news is that crepes are incredibly low in calories and can be a healthy option for those who are watching their weight. A 10-inch crepe has only 90 calories, which is less than 4.5 percent of the recommended daily intake.
Author: Alia Izzati
Alia Izzati is an experienced food critic and writer based in Malaysia. She is the author of several popular articles on the websites klfoodie.com and eatzeely.com, where she covers a wide range of topics related to restaurants and their menus. With a keen palate and a passion for exploring the culinary landscape of her home country, Alia is known for her thoughtful and in-depth reviews of the latest dining trends and hotspots. Whether you're looking for the best new places to eat in Malaysia or just want to stay up-to-date on the latest food news, Alia's articles are a must-read for anyone with an interest in the culinary arts.