Ippudo Ramen Menu Prices Singapore 2023
Hello Ippudo Ramen lovers, are you looking for the latest Ippudo Ramen Menu? You have arrived at the right place then. We have uploaded their complete menu with pictures & updated prices. Below you will find the latest Lists of Ippudo Ramen Menu 2023 Singapore with prices.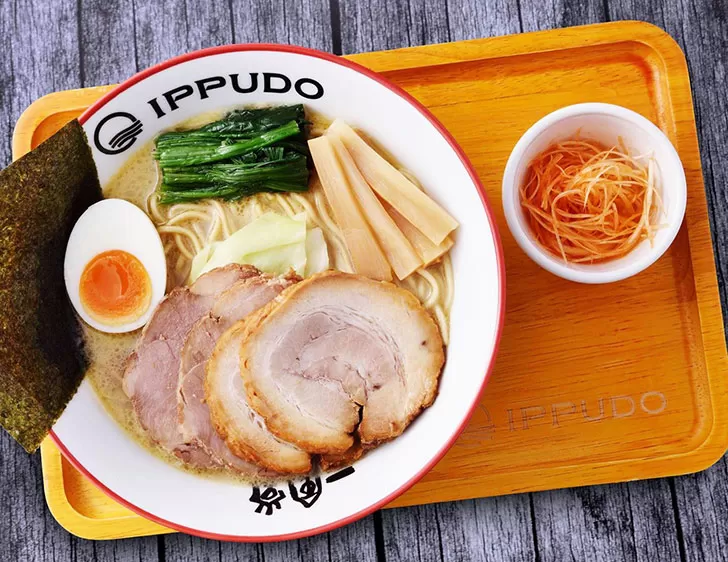 Ippudo Ramen Menu Singapore With Prices List
Popular
Special Deal
Seasonal Ramen
Ramen
Their menu boasts a delightful selection of mouthwatering dishes, such as the Shiromaru Motoaji Ramen, Akamaru Shinaji Ramen, Karaka Men Ramen, Chicken Shoyu, Veggie Dashi Ramen, and the fiery Spicy Black Ramen. With prices starting from S$17.40, it's a treat that won't break the bank.
Salads
I discovered a myriad of tantalizing dishes, each leaving an indelible mark on my taste buds. From the refreshing Wafu Seaweed Choregi Salad at just S$ 13.80 to the delightful Goma Q priced at S$ 7.90, and not forgetting the scrumptious Japanese Iburi Gakko Potato Salad available for S$ 8.40, this culinary adventure was an absolute delight for my senses.
Gyoza
Their menu boasts an array of delectable options, including the mouthwatering IPPUDO Pan Fried Gyoza in both 10pcs and 5pcs portions, priced at S$ 18.30 and S$ 10.40, respectively. Not to be missed is the zesty IPPUDO Spicy Boiled Gyoza (5pcs) for just S$ 11.40.
Signature Buns
Appetizer
Their menu boasts a wide array of mouthwatering dishes at great prices! From the savory Edamame Sea Salt priced at just S$ 6.90 to the delectable Crispy Crab Frits at S$ 10, there's something for everyone. Don't miss the fiery Umakara "SUPER HOT" Konnyaku, a must-try at S$ 8.90.
Side Dishes
Their menu boasts a delightful array of dishes that won't break the bank, such as the mouthwatering Crispy Corn for just S$9. For those seeking a savory delight, the Katsuo Bakkoshi Takoyaki and Chicken Karaage, both priced at S$9.10, will surely satisfy your cravings. Don't miss out on their Ramen-ya styled Happoitame and the delectable Japanese Aji Fry, both available at a reasonable S$11.30.
Rice
Dessert
Beverages
Beer
Sake
Their extensive sake menu boasts a delightful array of options, from the smooth and delicate Nanbu Bijin Yamadanishiki Shinpaku at S$90 to the rich and aromatic Manazuru SOW Junmai Daiginjo at S$37 for 300ml. With prices ranging from S$14 to S$90, Ippudo Ramen caters to every taste and budget.
Ramen Kits
Their menu offers a delightful range of options that will surely satisfy your taste buds. From the mouthwatering Shiromaru Motoaji Ramen Kit at just S$15.30 to the flavorful Umegaemochi 5pcs for S$22.50, each dish promises an unforgettable dining experience. Don't miss the opportunity to savor the Japanese Hakata Style Gyoza (30pcs, Frozen) priced at S$37.95 or the delectable Pork Belly Chashu (Frozen) for S$8.50.
Ippudo Ramen Alternative Restaurants
What is Ippudo Ramen known for?
What's the deal with Ippudo Ramen? Well, let me tell you! Ippudo, also known as Hakata Ippūdō (博多一風堂) in Japan, is a popular Japanese ramen restaurant chain with a global presence. What sets them apart is their specialty: tonkotsu ramen. In fact, they've earned a reputation as "the most famous tonkotsu ramen shop in the country". So, if you're a ramen enthusiast or just curious to try some top-notch tonkotsu, Ippudo is the place to be!
What are Ippudo noodles made of?
"What's the deal with Ippudo noodles? Well, let me tell you! These delectable noodles are crafted from Japanese wheat, giving them a medium-thick, flat texture. What's interesting is that Ippudo Lumine Est Shinjuku stands out by using whole wheat flour for their noodles, setting them apart from the other eight participating Ippudo stores. So, next time you savor a bowl of Ippudo ramen, you'll know you're indulging in the goodness of whole wheat flour noodles!"
Where is Ippudo ramen from?
Ippudo ramen traces its roots back to the bustling ramen hub of Hakata, Japan. Back in 1985, the visionary Ramen King, Shigemi Kawahara, established IPPUDO, setting the stage for a culinary journey that would transcend borders. After its successful debut in Japan, IPPUDO crossed international boundaries, with its inaugural overseas outlet sprouting in New York City in 2008, paving the way for rapid global expansion. Today, IPPUDO continues to delight ramen enthusiasts worldwide, serving up authentic flavors and rich history in every steaming bowl.
How many calories are in Ippudo ramen?
Today, let's delve into the calorie content of the mouthwatering Ippudo ramen! Brace yourself, as a single serving of this delectable dish packs around 880 calories. So, if you're keeping an eye on your caloric intake, it's good to be aware of this nutritional aspect. Nonetheless, indulging in a bowl of Ippudo ramen now and then can be a delightful treat for your taste buds. Just remember to balance it out with other healthier choices throughout the day. Enjoy your ramen adventures!"
Author: Christopher Tan
Hi there! I'm Christopher Tan, an award-winning writer, cooking instructor, and photographer. My passion lies in combining my love for words, images, and of course, food to create meaningful experiences. I have been honored to have my work published in numerous esteemed publications, including the Sunday Times and Straits Times in Singapore, Saveur magazine in America, and The Peak magazine.
I have expressed my love for food through the written word by authoring and co-authoring multiple cookbooks, including Chinese Heritage Cooking, Ask The Foodie and NerdBaker. I am thrilled to inspire others to create their own meaningful experiences through food, through my writing and teachings. I write restaurant menus and review on eatzeely.com