The Summerhouse Menu Singapore 2023
If you are planning to visit The Summerhouse restaurant in Singapore, then you should check out this page for the Latest The Summerhouse Menu 2023 with prices. They have an array of delicious and inspiring options that will leave you satisfied and ready to take on the rest of your day. With such a huge selection of dishes at The Summerhouse Singapore Menu, how do you know what to order? Don't worry—they've got you covered. They've broken down their menu into sections based on what kind of mood you're in: Whether you're looking for something light or something thick and hearty, they've got what you need.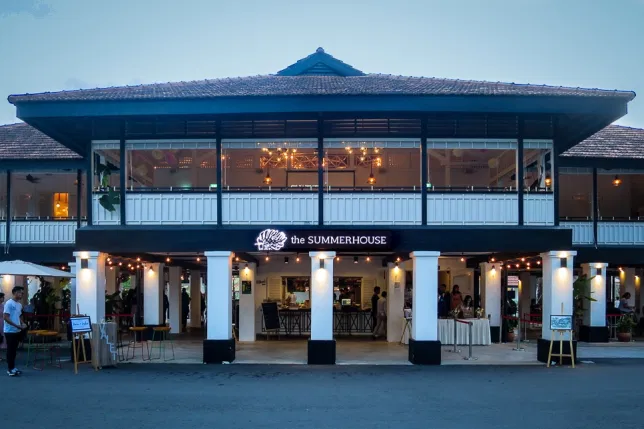 The Summerhouse wanted to share their passion with you and create an environment where you could relax and enjoy a great meal with friends and those you love. When you're looking for a casual evening with friends, or a delicious meal to take home, The Summerhouse Singapore is the place to be. One of the best things about this The Summerhouse SG is that it is open from morning till late at night, so you can visit them anytime during the day or night if you want to have some good food cooked by professional chefs who know how to prepare delicious dishes using fresh ingredients
The Summerhouse Menu 2023 with priecs
.Below you will find the latest Lists of The Summerhouse Menu 2023 Singapore with prices. The Summerhouse Menu & prices are sourced directly from The Summerhouse Singapore outlets.
Bundle Deals
Meaty Squad
Fit For 3-4 Pax, 1x Grilled Seabass, 1x Whole Chicken Leg , 1x Choice of
Pizza, 2x Choice of Sides, 5 x juices
S$90.00
Hearty Spread
1x Kelong Prawn & Scallop Pizza, 3x Choice of Pasta, 2x Choice of Sides, 5
x Juice
S$70.00
3 Course For 2
2 x Creamy Abalone Mushroom Soup, 2 x Choice of Pasta, 2 x Choice of Side
S$53.50
The Summerhouse Bundle
Fit For 2 Pax, 2 French Onion Soup, Garden Salad, Duck Leg Confit, Seabass
Bouillabaisse
S$90.00
The Summerhouse and Wildseed Bundle (Suitable For 3 to 4 )
Fit for 3 to 4 Pax, Choice of Pizza, Choice of Pasta, Duck Leg Confit,
Seabass Bouillabaisse
S$90.00
Summerhouse Farm To Table Special
French Onion Soup
French Onion Soup
S$10.00
Fresh Mud Crab Omelette
Hand-picked Fresh Mud Crab Meat and Spring Onion Omelette | Kampot
Peppercorn Beurre Noisette
S$24.00
Cauliflower Cheese Gratin
Cauliflower Cheese Gratin
S$12.00
Smoked Potato Puree
Grilled Abalone | Mushroom | Parsley Emulsion | Toasted Pine Nuts | Beef Jus
S$12.00
Roasted Summer Vegetables
Roasted Summer Vegetables
S$12.00
100 Hour Mayura Brisket
with Broccolini | Kale | Crispy Arugula
S$45.00
Whole Grilled Seabass with Roasted Root Vegetable
1 kg Seabass, Fit for 2-3 pax
S$60.00
Seabass Bouillabaisse
Fresh Kelong Seabass | Fennel | Cherry Tomato | Shell Fish Broth
S$32.00
Duck Leg Confit
Duck Fat Baby Potato | Red Onion Jam
S$32.00
French Yellow Chicken Breast
Pan-seared French Yellow Chicken Breast | Creamed Spinach | Garlic Baby
Carrot | Kranji Abalone Mushroom | Chicken Jus | Roasted Carrot Puree
S$32.00
Spelt Risotto
Garlic | Sauteed Summer Mushroom
S$24.00
Wildseed Brunch
Big Pan Breakfast
Scrambled Eggs | Sausage | Bacon | Mushrooms | Cherry Tomatoes | Avocado |
Toasted Sourdough
S$28.00
Smashed Avocado with Bacon
Bacon | Smashed Avocado | Pea Shoots | Pumpkin Seeds | Sunflower Seeds |
Yogurt Dressing | Tomatoes | Toasted Sourdough
S$18.00
Smashed Avocado with Mushroom
Grilled Mushroom | Smashed Avocado | Feta Cheese | Sautéed Onions |
Marinated Tomatoes | Pea Shoots | Toasted Sourdough
S$18.00
Croissant
1pc
S$6.00
Egg Croissant
Croissant | Truffle Butter | Brie | Scrambled Eggs
S$13.00
Highland Pancake
Corn | Maple Syrup | Butter | Mixed Berries
S$12.00
Bagel Eggs Benny
Toasted Bagel | Scramble Eggs | Dill | Served with a choice of Smoked
Salmon or Crispy Bacon
S$16.00
French Toast
Brioche | Crispy Bacon | Marinated Tomatoes | Feta Cheese
S$16.00
Grills and Salad
Wildseed Super Food Salad
Sesame Crusted Salmon Tataki | Baby Spinach | Kale | Moringa | Blueberries
| Strawberries | Walnut | Almond | Cherry Tomatoes | Feta | Chia Seed |
Yoghurt & Soya Milk Dressing
S$18.00
Kale Salad
Red & White Quinoa | Dried Cranberry | Baby Kale | Green Apple | Cherry
Tomatoes | Citrus Vinaigrette
S$13.00
Whole Chicken Leg
Whole Chicken Leg Marinated In Mint Harissa Spice, Calamansi &Ginger |
Grilled Pita Bread | Mesclun Salad | Citron Vinaigrette | Tzatziki
S$28.00
Grilled Chicken Thigh
Grilled Chicken Thigh Marinated with Green Chili & Coriander | Feta Cheese
| Butterhead Lettuce | Curly Fries
S$26.00
Grilled Sea Bass
Roasted Zucchini | Capsicum | Extra Virgin Olive Oil | Yuzu Kosho
S$28.00
Pasta
Truffle Carbonara Pasta
Creamy Parmesan Sauce | Crispy Bacon | Onsen Egg | Parsley
S$25.00
Wildseed Garden Arrabiata
Linguine | Cameron Highland Cherry Tomatoes | Charred Asparagus| Baby Corn
| Coriander & Cashew Pesto
S$20.00
Tiger Prawn Tom Yam Linguine
Tiger Prawns | Cherry Tomatoes | Tom Yam Stock | Lime Leaf
S$26.00
Wagyu & Pork Ragout Linguine
Homemade Wagyu Bolognese with Slow Cooked Iberico Pork Collar Ragout |
Parmesan | Italian Parsley
S$25.00
Loaded Mac and Cheese
Macaroni Pasta | Bacon | Cheddar Cheese
S$15.00
Soft-Shell Chilli Crab Linguine
Fried Soft Shell Crab | Crab Meat | Cherry Tomatoes | Chilli Crab Sauce
S$26.00
Mussel and Clam Vongole
Live Venus Clams | Mussels | Chilli | Garlic | White Wine | Italian Parsley
S$25.00
Wildseed Sandwich & Burger
Wagyu Beef Burger
Honey Oat Burger Bun | Wagyu Beef Patty MS8 | Cheddar Cheese | Roma Tomato
| Bacon | Arugula | Smoked Truffle Mayonnaise | Curly Fries
S$28.00
Spicy Chicken Burger
Sourdough Bun | Crispy Fried Chicken Katsu | Butterhead Lettuce | Tomato |
Pickled Cucumber | Purple Coleslaw | Fried Egg | Sambal Mayo Sauce
S$23.00
Pulled Pork Burger
Bacon Cream Cheese Bun | BBQ Pulled Pork Marinated with Mustard | Coleslaw
| Pickled Charred Cucumber
S$24.00
Pizza
Bacon and Egg Pizza
Streaky Bacon | Egg | Tomato Sauce | Mozzarella Cheese | Sambal Mayo |
Spring Onion
S$24.00
Kelong Prawn & Scallop Pizza
Kelong Tiger Prawns & Scallops | Mozzarella | Mascarpone | Cherry Tomatoes|
Pesto
S$25.00
Smoked Pork Pizza
Spicy Smoked Pork Collar | Pineapple Bits | Tomato Sauce | Mozzarella |
Sriracha Mayo
S$25.00
Truffled Brie Pizza
Brie | Truffle Cream Sauce | Abalone Mushroom | Truffle Oil | Rocket
S$26.00
Sides
Creamy Abalone Mushroom Soup
Creamy Abalone Mushroom Soup
S$9.00
Spicy Bacon and Cream Cheese Bun
Spicy Bacon and Cream Cheese Bun
S$8.00
Truffle Mayonnaise Curly Fries
Curly Fries | Truffle Mayo | Spring Onions | Parmesan
S$14.00
Fried Calamari with 'Kewpie'
with Yuzu Kusho Mayonnaise
S$15.00
Buffalo Wings
Buffalo Wings
S$15.00
Breaded Mozzarella Stick
Thai Mayo Sauce
S$12.00
Whole Cakes
Strawberry Shortcake 8″
Whole Cakes
S$90.00
Coconut Shortcake 8″
Whole Cakes
S$90.00
Cocktails
Floral Elixer
Gin | Triple Sec | Thyme | Elderflower | Cranberry
S$17.00
Garden Fantasy
Vodka | Thyme | Elderflower | Lemon | Mint | Cranberry
S$17.00
Bird of Paradise
Rum | Lychee | Lime | Cranberry
S$17.00
Beers
Asahi Btl
Asahi Btl
S$13.00
Kronenbourg Blanc Btl
Kronenbourg Blanc Btl
S$13.00
Corona Btl
Corona Btl
S$13.00
Sparkling
Zonin Btl
Zonin Btl
S$60.00
Drinks
Unsweetened Iced Tea
Unsweetened Iced Tea
S$6.00
Coke
Coke
S$3.00
Sprite
Sprite
S$3.00
Ginger Ale
Ginger Ale
S$3.00
Sparkling Water (250ml)
Sparkling Water (250ml)
S$7.00
Cranberry Tonic Water
Cranberry Tonic Water
S$8.00
Cucumber & Watermelon Cooler
Cucumber & Watermelon Cooler
S$8.00
Cranberry Juice
Cranberry Juice
S$5.00
Pineapple Juice
Pineapple Juice
S$5.00
Lime Juice
Lime Juice
S$5.00
Mango Juice
Mango Juice
S$5.00
Apple Juice
Apple Juice
S$5.00
Sun-Kissed
Mocktail Pineapple, Mango, Thyme
S$6.00
Garden Tropics
Mocktail Blue Lagoon, Cranberry Lime, Passionfruit
S$6.00
Cool Summer
Mocktail Mint, Lychee, Ginger Ale
S$6.00
Citrus Twist
Mocktail Orange, Grapefruit, Lemon
S$6.00
Virgin Bird Of Paradise
Mocktail Lycee, Lime, Cranberry
S$6.00
Summer Berries
Mocktail Raspberry, Strawberry, Blackcurrant, Soda
S$6.00
The Summerhouse Alternative Restaurants
Author: Christopher Tan
Hi there! I'm Christopher Tan, an award-winning writer, cooking instructor, and photographer. My passion lies in combining my love for words, images, and of course, food to create meaningful experiences. I have been honored to have my work published in numerous esteemed publications, including the Sunday Times and Straits Times in Singapore, Saveur magazine in America, and The Peak magazine.
I have expressed my love for food through the written word by authoring and co-authoring multiple cookbooks, including Chinese Heritage Cooking, Ask The Foodie and NerdBaker. I am thrilled to inspire others to create their own meaningful experiences through food, through my writing and teachings. I write restaurant menus and review on eatzeely.com