Garrett Popcorn Shops® Menu Prices Singapore 2023
Hello Garrett Popcorn Shops® lovers, are you looking for the latest Garrett Popcorn Shops® Menu? You have arrived at the right place then. We have uploaded their complete menu with pictures & updated prices. Below you will find the latest Lists of Garrett Popcorn Shops® Menu 2023 Singapore with prices.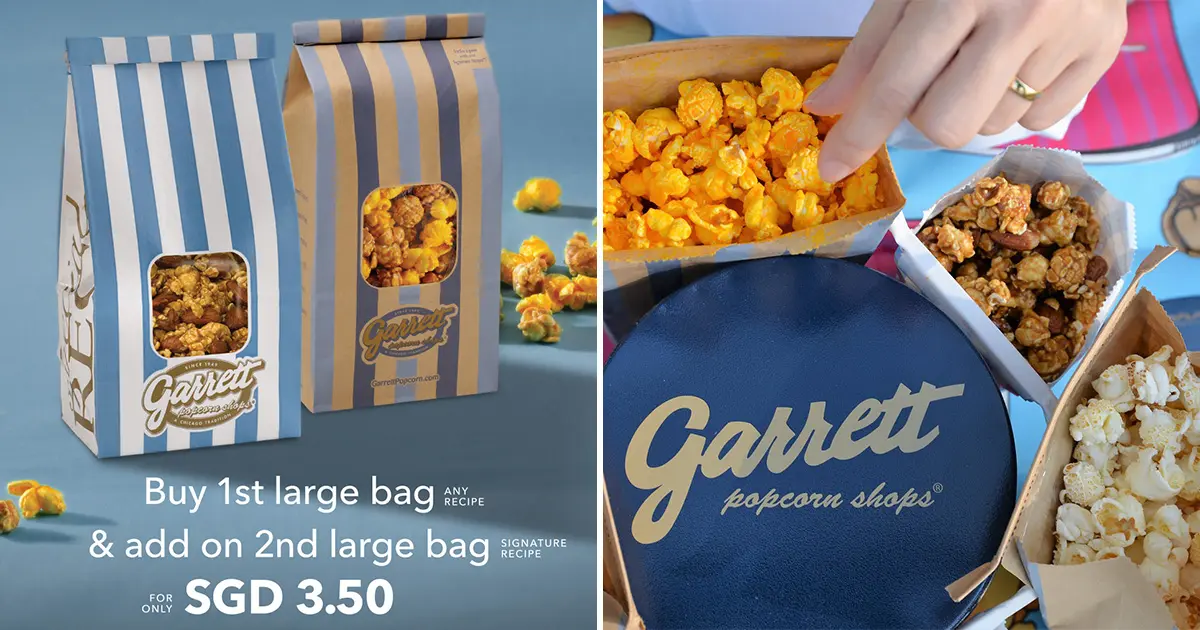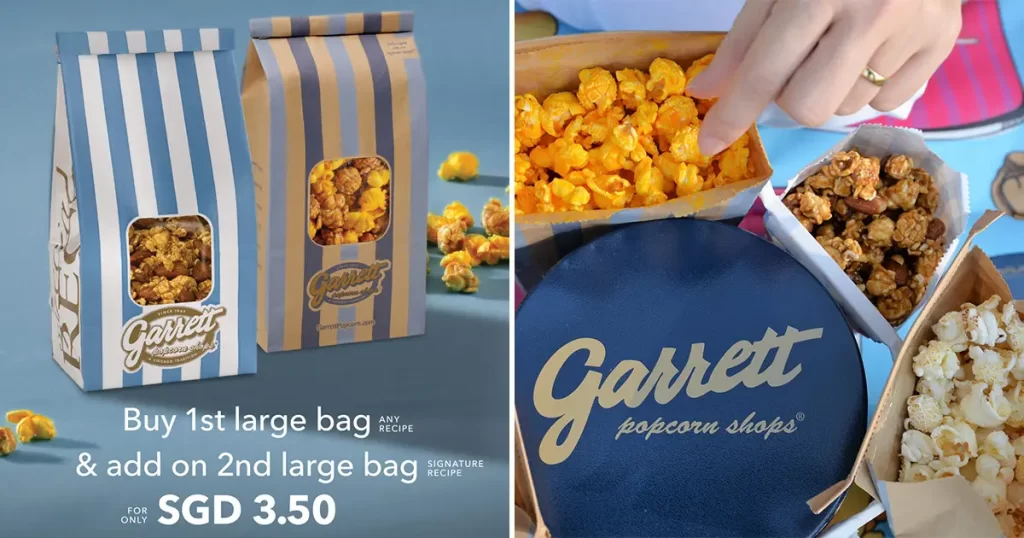 Garrett Popcorn Shops® Menu Singapore With Prices List
Popular products
Garrett Popcorn Shops® Alternative Restaurants
What are the sizes of Garrett's popcorn?
For larger gatherings or parties, their Celebration tin is the perfect choice, serving about 40-50 people. If you're looking for a smaller option, their Classic tin serves 4-8 people. The Family tin is great for a slightly larger group, serving 8-12 people, while the Friends tin is designed for gatherings of 12-16 people. Additionally, if you prefer individual servings, they also have Individually Sized Multipacks available. So, whether you're hosting a big event or just want to enjoy some delicious popcorn on your own, Garrett's has a size that will fit the bill.
Why is Garrett's popcorn so popular?
Since its establishment in 1949, Garrett's Popcorn has been meticulously preparing their popcorn in small batches, ensuring freshness and quality. This attention to detail extends even to their ecommerce kitchen, where every order is cooked on the same day it is shipped. They adhere to a simple ingredient list, avoiding the use of preservatives, and rely on skilled cooks who follow secret family recipes passed down through generations. So, when you indulge in a bag of Garrett's popcorn, you can savor the flavors that have captivated taste buds for decades, all thanks to their commitment to tradition and quality.
How much popcorn is in a Garrett Classic tin?
If you've ever wondered how much popcorn you can expect to find in a Garrett Classic tin, I've got you covered! The Classic Tin from Garrett Popcorn contains approximately 14 cups of popcorn, which is perfect for serving a group of 4 to 8 people. So whether you're planning a movie night with friends or a cozy evening at home with your family, the Classic Tin has just the right amount of delicious popcorn to satisfy everyone's cravings.
Can you bring Garrett's popcorn on a plane?
As an avid traveler and popcorn enthusiast, you might be wondering if it's possible to bring Garrett's popcorn on a plane. Well, the good news is that you can indeed take solid food items with you on a flight, whether it's in your carry-on or checked baggage. Just remember that this applies to solid foods only, and not liquids or gels. So, feel free to pack your favorite bags of Garrett's popcorn and satisfy your cravings while soaring through the skies! Bon voyage and happy snacking!
How big is 2 gallon popcorn?
Welcome to my blog, where I'll be answering the question, "How Big is a 2-Gallon Tin of Popcorn?" A 2-gallon tin of popcorn usually measures around 11 x 9 x 11 or 12 x 12 x 9 inches in size. In terms of weight, it generally weighs approximately 4 pounds. So, if you're wondering about the dimensions and weight of a 2-gallon popcorn tin, you can expect it to be within these ranges.
What size bag holds 2 cups popcorn?
When it comes to finding the right bag size for 2 cups of popcorn, consider opting for the small bags commonly found in 40 count Party Favor cases. These bags are designed to accommodate approximately 2 cups of popcorn and vary in weight, ranging from around 0.5 ounces to 4 ounces, depending on the specific type of popcorn they contain. So, if you're looking to enjoy a modest serving of popcorn, these small bags should do the trick!
Author: Christopher Tan
Hi there! I'm Christopher Tan, an award-winning writer, cooking instructor, and photographer. My passion lies in combining my love for words, images, and of course, food to create meaningful experiences. I have been honored to have my work published in numerous esteemed publications, including the Sunday Times and Straits Times in Singapore, Saveur magazine in America, and The Peak magazine.
I have expressed my love for food through the written word by authoring and co-authoring multiple cookbooks, including Chinese Heritage Cooking, Ask The Foodie and NerdBaker. I am thrilled to inspire others to create their own meaningful experiences through food, through my writing and teachings. I write restaurant menus and review on eatzeely.com