Sagar Restaurant Menu Price Malaysia 2023
Hello Sagar Restaurant lovers, are you looking for the latest Sagar Restaurant Menu? You have arrived at the right place then. We have uploaded their complete menu with pictures & updated prices. Below you will find the latest Lists of Sagar Restaurant Menu 2023 Malaysia with prices.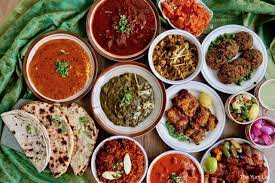 Sagar Restaurant Menu Malaysia 2023 With Prices List
Arabic Salad, Yogurt Salad, Fattoush, Kachumber Salad, Chicken Bucket Biriyani, Mutton Bucket Biriyani, Fish Bucket Biriyani, Prawn Bucket Biriyani, Dhal Palak, Gobi Masala, Mushroom Mutter Masala, Andhra Chicken Curry, Peanut Masala, Gobi, Gobi Manchurian, Paneer, Paneer Tikka, Paneer Podimas, Chicken Lollipops, Fish, Calamari, Chilli Chicken, Chilli Prawn, Rogan Ghosh, Mughlai Mutton Kurma, Mutton Sheek Masala, Mutton Chettinad, Mutton Varuval, Mutton Chukka.
Menu
Price
Salads
Arabic Salad
RM10.70
Yogurt Salad
RM13.10
Fattoush
RM10.70
Kachumber Salad
RM10.70
Green Salad
RM11.90
Tandoori Chicken Salad
RM20.30
Bucket Biriyani
Chicken Bucket Biriyani
RM167.90
Mutton Bucket Biriyani
RM203.90
Fish Bucket Biriyani
RM191.90
Prawn Bucket Biriyani
RM215.90
Non Vegetarian Plain Bucket Biriyani
RM119.90
Egg Bucket Biriyani
RM131.90
Indiagate Singnature Curry
Dhal Palak
RM14.30
Gobi Masala
RM16.70
Mushroom Mutter Masala
RM21.50
Andhra Chicken Curry
RM31.10
Andhra Royyala Kurma (Prawn)
RM35.90
Vegetarian Appetizers
Peanut Masala
RM8.30
Gobi 65
RM15.50
Gobi Manchurian
RM16.70
Paneer 65
RM22.70
Paneer Tikka
RM28.70
Paneer Podimas
RM25.10
Raw Banana Tawa Fry
RM14.30
Baby Corn Pepper Fry
RM15.50
Non Vegetarian Appetizers
Chicken Lollipops
RM21.50
Fish 65
RM20.30
Calamari 65
RM28.70
Chilli Chicken
RM21.50
Chilli Prawn
RM31.10
Chilli Calamari
RM29.90
Soups
Nandu Rasam(Crab Soup)
RM23.90
Mutton Pepper Soup
RM16.70
Cream Of Mushroom Soup
RM10.70
Cream Of Chicken Soup
RM10.70
Sweet Corn Soup Vegetable
RM10.10
Sweet Corn Soup Non Vegetable
RM10.70
Cream Of Fresh Broccoli
RM10.70
Tandoori
Chicken Tandoori
RM16.70
Grilled Tandoori Fish Fillet
RM27.50
Chicken Tikka
RM25.80
Chicken Malai Tikka
RM26.30
Fish Tikka
RM26.30
Tangdi Kabab(4 Pcs Chicken)
RM28.70
Chicken Seekh Kebab
RM26.30
Mutton Sheek Kebab
RM29.90
Indian Gate Mix Tandoori Platter
RM59.90
Tandoori Prawns
RM35.90
Mutton
Rogan Ghosh
RM31.10
Mughlai Mutton Kurma
RM31.10
Mutton Sheek Masala
RM29.90
Mutton Chettinad
RM31.10
Mutton Varuval
RM29.90
Mutton Chukka
RM29.90
Mutton Capsicum
RM31.10
Kheema Muttar
RM31.10
Dhal Gosht
RM28.70
Seafood
Nandu Varuval(Crab Chettinadu)
RM40.70
Prawn Masala
RM31.10
Malabar Fish Curry
RM28.70
Fish Tikka Masala
RM26.30
Meenu Kolumbu
RM27.50
Chettinad Prawn Pepper Fry
RM31.10
King Fish Pan Fried
RM17.90
Pomfret Fish Pan Fried
RM28.70
Naan / Roti
Plain Naan
RM5.90
Butter Naan
RM7.10
Garlic Naan
RM7.10
India Gate Cheese Naan
RM11.90
India Gate Cheese Garlic Naan
RM13.10
Chappati
RM5.90
Pudina Parata
RM7.10
Bamboo Biriyani
Bamboo Vegetable Biriyani
RM19.10
Bamboo Chicken Biriyani
RM23.90
Bamboo Mutton Biriyani
RM29.90
Biriyani
Plain Biriyani
RM16.70
Vegetable Biriyani
RM19.10
Egg Biriyani
RM20.30
Chicken Biriyani
RM22.70
Mutton Biriyani
RM29.90
Fish Biriyani
RM27.50
Mushroom Pulao
RM16.70
Jeera Rice
RM13.10
Steam Rice
RM7.10
Curd Rice
RM13.10
Desserts
Vanilla Ice Cream
RM6.50
Chocolate Ice Cream
RM6.50
Gulab Jamun
RM9.50
Gajar Ka Halwa
RM15.50
Indian Gate Special Dessert
RM20.30
Fresh Juices
Green Apple Juice
RM7.10
Orange Juice
RM9.00
Watermelon Juice
RM7.10
Pineapple Juice
RM9.00
Lemon Juice
RM9.00
Carrot Juice
RM10.20
Lemon + Mint Juice
RM10.20
Mango Juice
RM11.40
Strawberry Juice
RM12.60
Lassi
Buttermilk Lassi
RM13.70
Sweet Lassi
RM13.70
Salted Lassi
RM13.70
Mango Lassi
RM16.70
Strawberry Lassi
RM16.70
Banana Lassi
RM16.70
Sagar Restaurant Alternative Restaurants
what sagar restaurant acepet cradit card?
yes! sagar restaurant acepet cradit card.
Who is the owner of Sagar restaurant?
The owner of Sagar restaurant is Suresh Poojari.
How many outlets have Sagar restaurant?
Sagar restaurant has more than 40 outlets all over the world.
What is the famous food of Sagar?
Chironji Ki Barfi is the famous food of Sagar.
Author: Alia Izzati
Alia Izzati is an experienced food critic and writer based in Malaysia. She is the author of several popular articles on the websites klfoodie.com and eatzeely.com, where she covers a wide range of topics related to restaurants and their menus. With a keen palate and a passion for exploring the culinary landscape of her home country, Alia is known for her thoughtful and in-depth reviews of the latest dining trends and hotspots. Whether you're looking for the best new places to eat in Malaysia or just want to stay up-to-date on the latest food news, Alia's articles are a must-read for anyone with an interest in the culinary arts.