U Tea Menu Price Malaysia 2023
Hello U Tea lovers, are you looking for the latest U Tea Menu? You have arrived at the right place then. We have uploaded their complete menu with pictures & updated prices. Below you will find the latest Lists of U Tea Menu 2023 Malaysia with prices.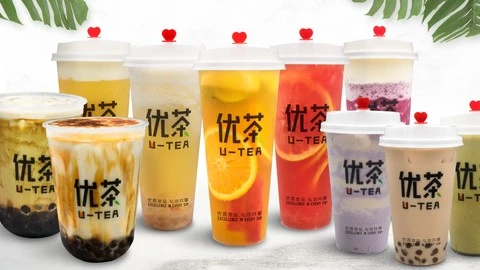 U Tea Menu Malaysia 2023 With Prices List
Sambal Smoked Salmon, Ulam Pesto (V), Prawn Aglio Olio, Salmon Else's Soba Noodle, Luscious Lemak Goreng, Wondrous Fish Biryani, Marvelous Mutton Biryani, Marvelous Chicken Biryani, Good Luck Cluck, The Devil You Know, Benjamin Mutton, Sayur-Nara (V), Al Funghi (V), Percik-fied Ayam, Quack-Whack
,Tomato Gala (V), Tempeh Teratai (V).
Menu
Price
Pasta
Sambal Smoked Salmon
A spicy pasta dish born from the perfect marriage of the quintessential Malaysian chilli paste & fresh, rich salmon.
RM36.80
Ulam Pesto (V)
Dig in to enjoy the earthy flavours of this pesto made with ulam, a hint of kaffir lime & topped with a beautiful cheese tuille.
RM24.80
Prawn Aglio Olio
A classic dish made from olive oil & garlic with chilli flakes, topped with juicy tiger prawns & basil.
RM32.80
Salmon Else's Soba Noodle
East meets West in our rendition of seared Atlantic Salmon on butter shoyu soba noodle that's topped with sesame seeds.
RM36.80
Laksa Inked
Malaysian twist on a classic prawn bisque. Squid ink spaghetti served with Nyonya style laksa sauce & juicy tiger prawns.
RM34.80
Pasta Lomak Podeh
Masak lemak pasta cooked with beef bacon
RM28.80
Arrabiata
Mixed roasted vegetables in spicy tomato sauce, blended with garlic, tomatoes & dried red chili peppers cooked in olive oil.
RM22.80
Rice
Luscious Lemak Goreng
Nasi Lemak stir-fried with sambal for an extra oomph, served with ayam goreng berempah, roasted peanuts, anchovies & egg.
RM24.80
Wondrous Fish Biryani
Wondrous Fish Biryani
RM28.80
Marvelous Mutton Biryani
Chettinad style Mutton Kari served with Saffron infused Biryani Rice, sauteed raisin & cashew nut. Served with Apple Mint raita.
RM28.80
Marvelous Chicken Biryani
Chicken Kari served with Saffron infused Biryani Rice, Sauteed raisin & cashew nut. Served with Apple Mint raita.
RM26.80
Marvelous Vegetarian Biryani
Roasted vegetables & curry potatoes on saffron-infused biryani, ghee sautéed raisins & cashew, served with apple mint raita.
RM22.80
Chicken Lomak Podeh
Crispy chicken cooked masak lemak cili api style, served with seasoned butter rice. Creamy, spicy – Ayam perfect!
RM24.80
Wrap & Roll
Good Luck Cluck
Crispy boneless chicken leg dipped in ginger chilli sauce spread with garlic mayo topped with shredded salad bedding.
RM24.80
The Devil You Know
A sinfully delicious wrap with curried chicken breast,
RM24.80
Benjamin Mutton
Tortilla wrap with mutton varuval on a shredded salad bedding & served with apple mint raita.
RM28.80
Sayur-Nara (V)
A hearty vegetarian wrap composed of roasted vegetables in a yummy marinara sauce
RM22.80
Madu Tiga Mexicana
Quesadillas with ayam goreng berempah & grilled vegetables,
RM34.80
Pizza
Al Funghi (V)
Button mushrooms & spinach on a deliciously creamy base.
RM30.80
Percik-fied Ayam
Roasted chicken & mozzarella on masak lemak base for an added oomph. A love affair where local & Italian flavor marries.
RM34.80
Quack-Whack
Smoke duck on a pizza is what we call a quacking day! Topped with seared plum that is baked on mozzarella and tomato base.
RM38.80
Tomato Gala (V)
Margherita-style pizza with sundried tomatoes, semi-dried tomatoes, cherry tomatoes & mozzarella.
RM28.80
Tempeh Teratai (V)
A Malaysian-inspired pizza topped with tempeh & baked lotus root on a spicy sambal base.
RM30.80
Duck Confit
Beautiful slices of duck confit accompanied by a rich onion marmalade & fresh plums to make for a complex flavourbomb.
RM38.80
Chicken Mexicana
Grilled chicken, bratwurst, sun-dried tomatoes, jalapeños & olives with a slightly tangy chimmichurri sauce. Ah-yum!
RM34.80
Carnivore
Roasted chicken, beef bacon, turkey ham, semi-dried cherry tomatoes, jalapeño & arugula.
RM36.80
Italian Mutton Kari
Perfectly tender Mutton Kari on a sambal base. This is the spice you need in your life.
RM38.80
Half & Half
Combine any 2 of our best half
RM38.80
Tapas
Smoked Canard & Plum
House–smoked duck served with plum-peach salsa & peach vinaigrette
RM26.80
Flightless Wings
Deep-fried chicken wings tossed with ginger chili dip
RM24.80
Al Ajillo Shrimp
White shrimp, olive oil & garlic chili served with garlic toast
RM32.80
Mutton Kari
A classic Chettinad style mutton kari served with garlic pita.
RM28.80
Sautéed Wild Mushrooms (V)
Mushrooms sautéed with garlic & herbs, served with garlic pita
RM18.80
Devil's Dry Roast
Spicy dry chicken curry served with garlic pita.
RM20.80
Grilled Calamari
Fresh South China Sea grilled squid with sambal belacan salsa
RM28.80
Spud Bucket (V)
Regular fries, spicy wedges and house cut sweet potatoes with garlic aioli and honey mustard
RM18.80
Burnt Butter Steak
Seared sliced flank steak drizzled with chili burnt butter sauce
RM32.80
ABC
Crispy anchovies, bratwurst, sautéed with sambal chili, onion and coriander
RM20.80
Pan-Seared Barramundi
Beautifully seared seabass, cooked in your preferred style.
RM34.80
Popcorn Chicken
Crispy, juicy, and flavorful fried chicken pieces dunked in the signature Knowhere ginger chilli dip.
RM20.80
Rare & Roasted
Chargrilled Chicken Feast
Chargrilled boneless chicken with mashed potatoes & extra spice of mushroom edamame chili butter sauce.
RM32.80
Roasted Ayam Penyet
Comes with a juicy roasted ayam penyet with a spicy kick of tempeh sambal, sambal tomato, and potatoes to cool the heat off.
RM32.80
Seared Salmon Lemon Dhal-ing Couscous
Beautifully pan-seared Norwegian Salmon baked and served on a bed of lentil & lemon couscous with capers sauce for that added zest.
RM52.80
Fumed Duck
Smoked duck breast served with apple cider reduction, mashed potato, grilled vegetables & seared plums.
RM36.80
Buns & Wiches
Ultimate Thai Beef Bao
Bow down to the Asian twist Bao's of pulled slow-braised beef brisket, onion, chili & coriander.
RM32.80
Rendang ber-Bao
This amazingly pulled slow-braised chicken in aromatic rendang gravy with onions & chilies would make you droo
RM28.80
Fast & Falafel
Spiced, deep fried chickpea patties served with red pepper pesto & feta cheese. Served in a trio of sliders.
RM28.80
Un-Quarter Pounder
House-made patty with mushrooms, gherkins & peppers on a bed of arugula served with soubise sauce
RM32.80
Krispy Burger
Crispy boneless chicken leg with roasted vegetables and monterey jack cheese
RM30.80
Dessert
Abu Hassan Pen-churros
Inspired by P. Ramlee & his favourite dishes, our cekodok pisang churros come with a creamy peanut butter sauce.
RM16.80
Chendol Abadi
A classic Malaysian dessert served in a cold mixture of coconut milk, gula hitam, kidney beans, cincau & jackfruit.
RM14.80
Soft Drink
Coca Cola
320ml
RM2.50
Coca Cola Light
320ml
RM2.50
Sprite
320ml
RM2.50
Ginger Ade
320ml
RM2.50
Red Bull
250ml
RM7.50
Heaven & Earth Jasmine Green Tea
300ml
RM2.50
Dasani Mineral Water
Dasani Mineral Water
RM2.50
U Tea Alternative Restaurants
who is the owner of U Tea?
 U-Tea is owned by directors Melissa Wong and Arizona Ariffin Gadait.
how many outlets U Tea have?
U Tea have more than 50 outlets all over the world.
Which for famous U Tea?
Some Famous U Tea items are fruit-infused, cheezo, brûlée, and milk foam.
Author: Alia Izzati
Alia Izzati is an experienced food critic and writer based in Malaysia. She is the author of several popular articles on the websites klfoodie.com and eatzeely.com, where she covers a wide range of topics related to restaurants and their menus. With a keen palate and a passion for exploring the culinary landscape of her home country, Alia is known for her thoughtful and in-depth reviews of the latest dining trends and hotspots. Whether you're looking for the best new places to eat in Malaysia or just want to stay up-to-date on the latest food news, Alia's articles are a must-read for anyone with an interest in the culinary arts.